Today, I want to talk to you about the LIES that are pushed by TV, movies and the media when it comes to women & dating and how they may be ruining your chances with women. Here's the reality of what's going on today in our world…
After many years of exposure to the lies about women that are being pushed by TV, movies and the media, most modern men are CONFUSED about what women REALLY want from men. Believing what is being said by TV, movies and the media not only confuses men about what women really want, but it also begins to KILL their confidence and make them feel like they just aren't good enough.
One example of the lies pushed by TV and mainstream media is that women don't like being approached by men. If you watch most TV sitcoms or pay attention to TV advertisements, you will see men being slapped, rejected or ridiculed for approaching a woman. You will see a guy getting a drink tipped over his head or being laughed at by people just for walking up and showing interest in a woman. In the REAL world this DOES NOT happen…unless you use sleazy pick up lines.
After showing guys how to approach women in bars and nightclubs for years, I have never, EVER had a woman respond to a client by slapping him or tipping a drink over his head. It just DOES NOT happen…AT ALL. However, if you watch enough FAKE REALITY from movies, TV and music videos, you may begin to believe that women don't want to be approached and that you might be humiliated if you attempt it.
Here's the thing…
Most of the outlandish behavior that you see in the movies and on TV is for ENTERTAINMENT purposes. If you watch TV dramas, movies and music videos and try to get EDUCATED on how to be more successful with women, you will usually end up being afraid to approach women, feeling intimidated around beautiful women and getting rejected for being too nervous and shy around women.
The Solution?
To combat the growing confusion that modern men are experiencing today, we have identified 13 of the most common MYTHS (lies) that RUIN a guy's confidence with women. When you listen to Mastery Methods & Mindsets, you will hear us replace those MYTHS with the FACTS, which based on our extensive research, real-life experience and ongoing success with women.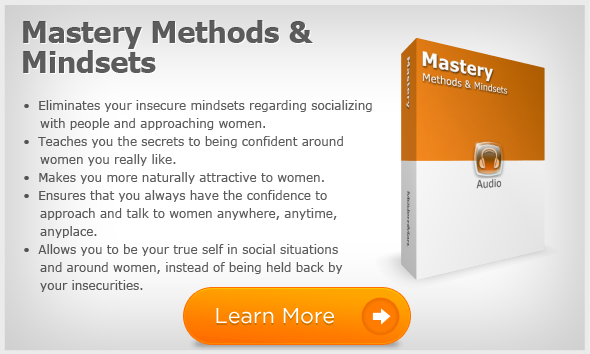 As Stu says near the end of the Myths & Facts section in Mastery Methods & Mindsets, "It only takes ONE of these myths to be locked in your mind as fact, to hold you back from achieving mastery success with women…" Just ONE and you will most likely be held back from experiencing the mastery level of success with women, where women become desperate to get into a sexual, loving relationship with a guy like you.
This is so because living your life based on the MYTHS is like trying to drive a car with the brakes pressed to the floor. You're not going to move very far and before long, your engine will become stressed. On the other hand, living by the FACTS is like driving on a freeway. You get where you want to go fast and with minimal fuss. It's a completely different experience of life and you will notice BIG CHANGES when you finally free yourself from the MYTHS and lies about women that are pushed by TV, movies and the media.
When you free yourself from the MYTHS that make other guys look nervous, awkward or odd around women, you will notice that women experience a different FEELING around you…and it draws them to you like a magnet. Unlike other guys, you are not plagued by insecurities. You are a confident guy who is able to interact with her in the moment, instead of being all up in your head because of your insecurities and fears.
Cheers
Dan
P.S. The "13 Myths & Facts About Success With Women & Dating" runs for just under 2 HOURS, before you get into the powerful Mastery Methods & Mindsets which then runs for just under 6 HOURS.
We've included the bonus section on the Myths & Facts About Success With Women & Dating to ensure that your mind is completely CLEAR of the crap that is holding you back from succeeding with women. Only then will be you ready to experience the fast transformations and mind-blowing results that come from the Mastery Methods & Mindsets
---
This
FREE
, 21-minute video explains what every single guy needs to know about how to be successful with women.