Make Her Love You For Life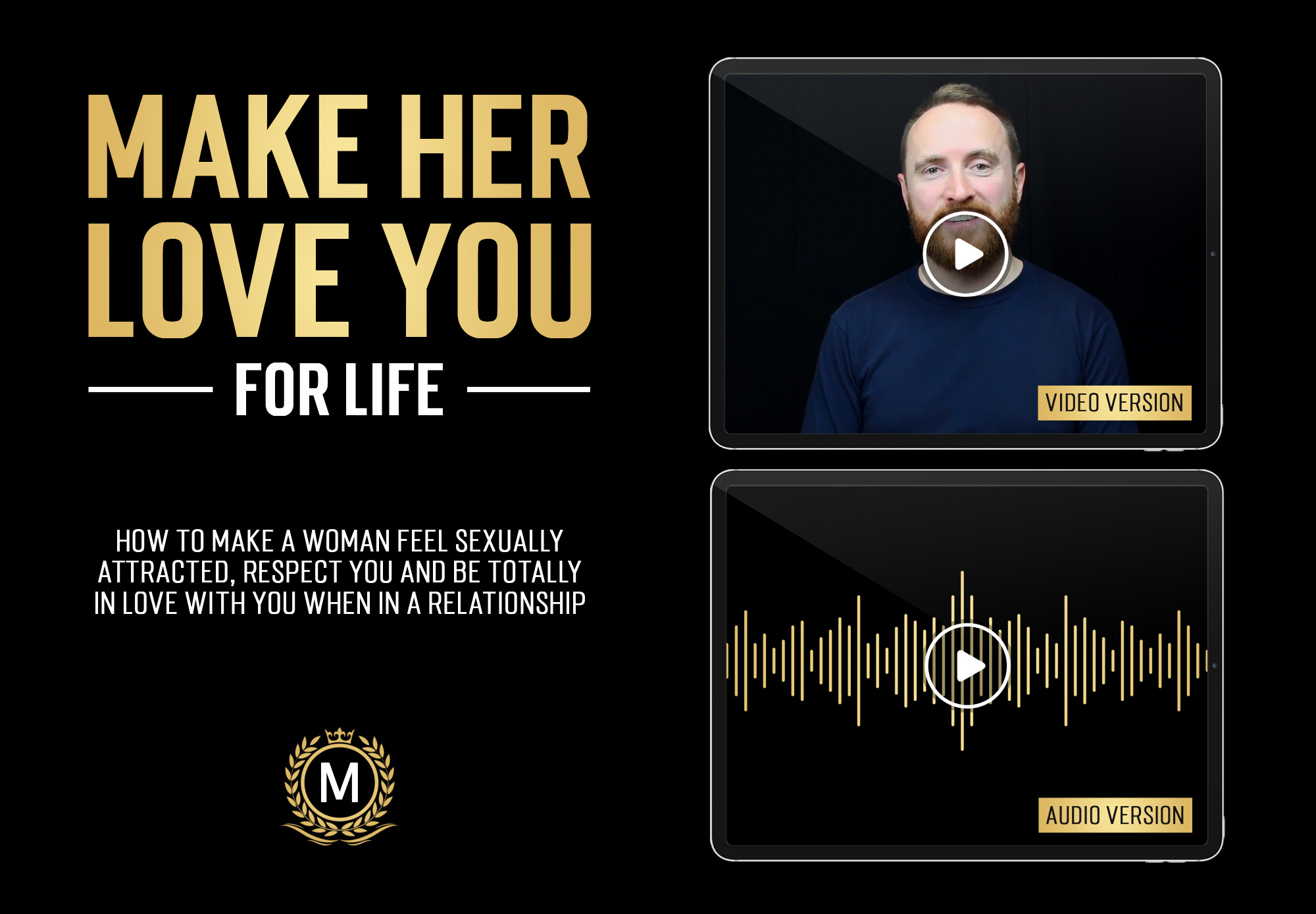 Make Her Love You For Life is a 9 hour video or audio program that you can download or begin watching/listening to right now.
When you use this approach in a relationship with a woman:
You are in the position of power.
She looks up to you, respects you and listens to what you say.
She feels sexually attracted to you, initiates sex and wants to please you.
She's not interested in other men and just wants to be with you.
She continually tries to maintain your interest, attraction and love by being on her best behavior and treating you well.
She lets you do what you want with your free time (e.g. catch up with friends, work on your hobbies or interests).
She is nice to you and treats you well.
She doesn't want to start fights with you or create drama over small little issues because she always wants to make you happy.
She takes responsibility for things that a man wants from his woman (e.g. pleasing you sexually, cooking, cleaning, being supportive, staying out of your way if you want some time for yourself, being affectionate, complimenting you, appreciating you).
She takes care of her appearance and wants to look good for you.
She shows respect for you in front of other people, rather than taking their side or putting you down in front of them.
She is sensible and logical when you need her to be (e.g. about finances, making decisions together as a couple) and sexy and naughty when you need her to be (e.g. in the bedroom).
She has such a strong attraction for you that simply hugging her or looking at her in a certain way turns her on and makes her want sex.
She also loves to give you oral sex because it turns her on. She just loves the idea of pleasing you. It makes her happy.
She happily does what you tell her to do without making a big fuss about it (e.g. if you tell her to make you a coffee, stop complaining or creating drama about something, be sensible, listen to you).
She makes you happy by being a good woman, rather than being moody and wasting your time with pointless arguments.
She loves you, wants you and only wants to be with you.
Regain Control of Your Relationship
Make Her Love You For Life teaches you exactly what to say and do so that you are in the position of power in your relationship.
When you use the techniques from the program, your woman will respect you, feel sexually attracted to you and be totally in love with you for life.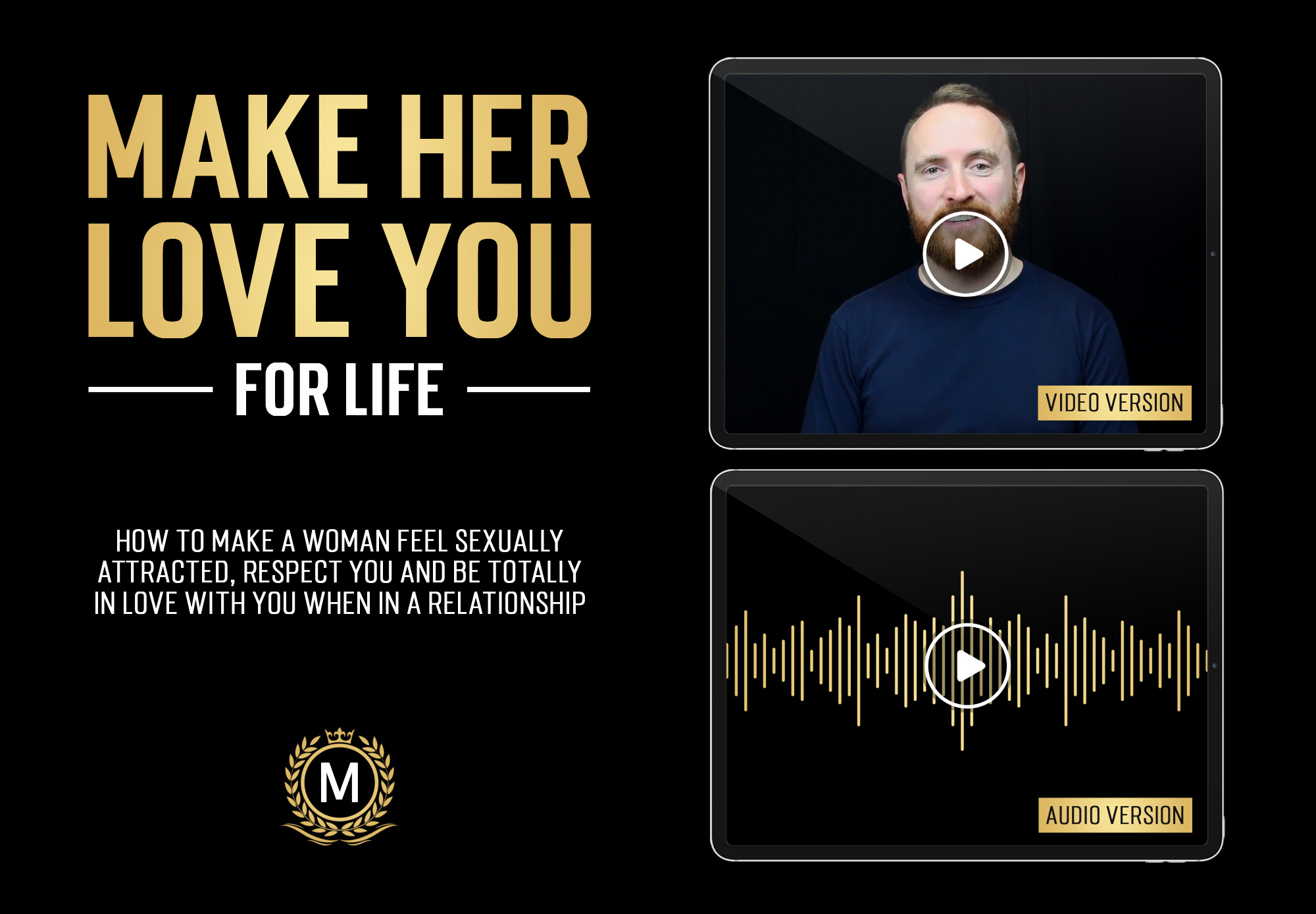 To get started, choose from one of the following 3 options:
1. Watch the video version – $297
2. Listen to the audio version – $297
3. Get both the video and audio version of Make Her Love You For Life – Only $327 (you save $267)
Recent Testimonials
"I got your Make Her Love You For Life program last month and watched it twice. My wife was ready to leave me, but she has changed her mind. She is so into me now. We were on holidays last week and she noticed women looking and me and checking me out. Not only can she feel the changes in me, but other women see it too. Our sex life is back and she loves like me she used to, but even more now I feel. So thank you Dan. You are doing a real service to the men of this world with your work. Please keep going. M"
"Hey, Dan. I wanted to share my story with you. A few months ago, I was about to my girlfriend because she was over me and the relationship. We'd been together for two years, but things had been falling apart for 6 months. She was always frustrated with me, and I felt like I couldn't do anything right around her. I was lost and didn't know what to do. I found you through a random search online and thought – this guy knows what he's talking about it. So I gave your program a try and wow…it has been like night and day regarding our relationship. It has changed so much. Your program has taught me how to be a better man and be attractive and desirable to her. My girlfriend immediately began to notice a difference in me, and she started responding positively. She was more affectionate, caring and interested when around me right away which shocked me a little and I wondered if it was a coincidence. But it has continued on ever since then. Amazing! We have also started to communicate better to avoid arguments, and our love for each other has grown stronger. I feel lucky to have found your site that day. It has been a life-changing discovery for me and I couldn't be a happier and more satisfied customer. Thanks!!! Brian"
"I was skeptical signing up and getting Make Her Love You For Life, but out of desperation and your diagnosis of my situation being pretty much spot on through your YouTube videos I thought why not give it a go, see what I could learn. I'm happy to say a week since I got your program things are going really well. In the relationship I had gone from being a confident, masculine, happy go lucky guy, falling in love with an absolute babe, to being real insecure, moody, feminine in response to her and bascially a guy who was anxious and depressed around her. The relationship had sucked the masculinity out of me, and I was then paying for it; it seemed she no longer loved me, was attracted to me or had any respect for me or what I had to talk about. It was obvious she was thinking of leaving me. I was getting desperate, felt like I was creeping on my own girl all the time and genuinely felt unable to be in a relationship, I felt broken. She was almost about to leave me. Your teachings really helped me to pull myself together and man back up. You've given me more tools to get to a place in the relationship where her attraction and love are growing daily. I can see that clearly. Now she always talks about our future together. So, I wanted to thank you for all you do. You really saved me here. I know I would have lost her if I continued on the way I was being around her. Thank you. G"
"Thank you for all your hard work and insight into the dynamics of making relationships work. I purchased the Make Her Love You For Life program and I am very happy with what has been happening since. I have been noticing changes in her behavior toward me. As an example, when we would have fun and I'd take her in my arms to dance, she used to tease me and try to lead at first before giving in, but this time, and for the first time, she let go, trusted me right away and enjoyed me leading her. Now that I'm coming from the right frame of mind she is able to act more feminine because I'm acting more like the man and practicing putting all the pillars in place. [The pillars of a successful relationship are taught in the program]. We're having sex on a regular basis now and it's like we're back in love like the early days. So thank you Dan! Jason"
"Hi Dan – I had been in a relationship with my girlfriend for 4 years, but things had started to feel stagnant. We had fallen into a routine and I could sense that she was becoming less and less interested in me. That's when I stumbled upon 'Make Her Love You for Life' by watching some of your videos on Youtube. On of the most important things the program taught me, was how to reawaken the spark and make her fall back in love with me, which for me has been everything. I thought we were headed for a breakup. It seemed inevitable really. She was hinting at it and always complaining about me. It was quite a depressing experience to be losing her like that especially because we used to be so in love. Now we have so much more fun together when talking to each other or hanging out and she has been hinting at marriage and starting a family. I truly believe I would have lost her had I not found you. Then it would have been me starting all over again the dating scene and trying to find a girlfriend. I really didn't want to have to go through all that again. So thank you for helping to save my relationship. Paul"
"Don't know if you read messages, but I had the urge to write to you, and must say, your Make Her Love You For Life video program completely changed my life. I'm 49, divorced with 3 kids, and have had a girlfriend for a few years now who I've found very hard to understand. She was testing me all the time and correcting me, saying things like don't speak quietly, don't sit like this, don't be so insecure, etc. Only after watching your videos I finally figured out everything and understood what she really wants from me. I understood she loves and wants me but my insecurity really turn her off, so she's trying hard to fix it. She wanted me to be stronger like you said. I've now changed thanks to the sharp explanations you provide that made everything clear. It makes so much sense and is so practical as well. Brilliant. When I started using your techniques my self confidence around her went up, and the relationship with her never has been better. That self confidence even changes how I act at work and with my kids. I want to thank you from the bottom of my heart. You don't know how much you've actually changed my life. YM"
"I just want to say thank you to Dan for the amazing program he has put together. The Make Her Love You For Life program is incredible. I am confident that the new relationship I'm in right now is going to be the best one I have ever had. Thanks to your program I can go in with full confidence knowing that as long as I stick to the guide lines of this program that I will not only be a better man, but have an incredible and loving relationship that lasts. Learning this has made love so much less scary for me because I know I can keep it alive. Thank you. Jeremy"
"I bought the "Make her love you for life" as my marriage has been in the shitter for several years now – the worst being the last several months. The 10 Pillars you teach are incredible. I soaked up all 70+ videos in under 2 weeks. And, as a result, my outlook and behavior has changed (for the better) and I am seeing near instant responses from my wife. I now recognize all the "tests" she gives and am allowing her to be "girly" with her emotions and I'm no longer responding in the feminine way I was. I am embracing my manliness and it is working. I have been telling all my friends about you too. They all say that there is a 100% improvement in my outlook, my behavior and my attitude. It's all because you have really enlightened me on my own mistakes over the years, but more importantly, have shown me how to correct them and behave like a man. I would love to be able to tell you all the things that happened that got me to find you and your work. But I get it, you are extremely busy. It's been brutal the past several years. Recent talks of divorce, etc. But now, thanks to your program, I am working on the 10 pillars and seeing near instant results in our relationship. Thank you so very much!! Tony"
"Dan, I was on the brink of a breakup before I found your program. My girlfriend and I were constantly fighting, and I didn't know how to fix it. Your advice on communication was and has been a total game-changer for me. We no longer argue like that anymore. If there is a disagreement it actually brings us closer because of how we now talk to each other. That alone has gotten rid of truckloads of stress from my life. I feel like I am in love with her more now and I know she feels that way because she has been telling me. Last weekend she hugged me tight, said sorry for how she used to behave and said she was more in love with me now than the past 6 years of our relationship. Your program has been a real blessing to me Dan. Thank you! MK"
"Dan, two years ago my wife of of nearly 10 years sat me down and said "I don't love you anymore". At the time we had two kids under 6. Devastated, bewildered, numb and confused… I was floored. I signed up to your course and followed your guidance to the letter. She then began chasing me in the relationship, being apologetic, realising her mistakes and attempting to attract me back so I wouldn't leave, exactly as you hinted it would go. Two years later we are stronger than ever. I owe you Dan, you're a legend, thank you, seriously, I'm so grateful. Also… now I know exactly what to do, I cannot lose! Thanks dude, you rock. Matt"
"I just wanted to give some feedback. I bought the love for life series [Make Her Love You For Life] last week because my hot and sexy wife of almost 10 years was pissed off at me. I got caught looking at a pretty girl and then lied about it and continued to do the wrong thing by angrily putting my foot through the door because I can't stand it when someone is trying to tell me how I think or feel. We've had our issues and this seemed to be the straw that was going to break the camel's back. I was a little dubious but I was desperate because I felt that if I didn't do something radical, I was going to lose her and she was making moves to get ready to leave me. The info overall in the program was amazing. Combining your information about the [removed because customer revealed private technique name that is only available to customers] and the info on how women act / test etc with my own methodologies yielded fantastic results. I feel I am now so much better equipped to deal with my wife and be the man I need to be. I had to spill the beans about what I was researching and the things you taught me, but all in all she couldn't disagree with what I was saying and I really think it helped settle many of her fears. Sex has never been a problem as it's always great and I always get it but last night was a step above and she wanted to cuddle up afterwards like she hasn't in a while. I'm now confident I can keep my wife loving me and make sure my family stays intact. One satisfied customer. Manny"
"Great advice in your Make Her Love You For Life course! I did something similar to this and became very powerful with women about 15 years ago. Got lazy again though and let things slide so have been in a bad patch again with my girlfriend for the last 6 months. One thing you said struck a chord when you said about your women wanting to suck you off. That's not happened for 3 years!! Implemented your advice and I had forgotten how powerful a magnet you can become. 5 days ago she gave me oral sex and it felt amazing after not getting it for so long. Must remember to not get lazy again! Ray"
"Hello Dan Bacon, Last year I bought your video of 'make your love your life'. After a breakup, I decided to buy this material since I felt like I was losing my manhood and didn't want to get into another relationship and have it end in a breakup again. I wasn't being respected by my girlfriend in my previous relationship. No more Mr nice guy so I decided to give this program a chance. I am so glad I did. My new girlfriend has complimented me a lot on my masculinity and confidence. She respects me and I feel so loved and appreciated. I can now see where I was going wrong with previous girlfriends. It's so easy now. She loves me completely and I know I can make the relatioship work. Thank you! Jose"
"Hi Dan – I know you deal with mainly single guys, but here is some encouragement for any married guys who need to sharpen up on their relationship skills. Your work has filled in a number of important gaps for me and has inspired me to be much more proactive in my relationship with my wife. Flirting, being risque, being unpredictable, being sexually adventurous, being the higher status person and so on, has my wife clawing at my clothes and literally begging me into the bedroom. It is a huge difference in how she once behaved. I thought I knew enough about relationships and therefore the problem was her and I and maybe not being a good match. I am so thankful to know that was wrong. Her and I are back to being in love like we were at the start. She is clearly in love with the new me and I feel amazing about it because I am so much more confident, daring and alive than I used to be. I don't know how else to describe it, but I feel like I've become more of the man I always wanted to be. It's not difficult either. I've found it to be very easy and comfortable to do what you teach. Almost effortless I'd say. I can say from direct experience as a happily married man, that what you teach has great implications for married men as well as single ones. My wife will be the first person to back me up on this. Richard"
"Your materials [Make Her Love You For Life] have made the single biggest change to my marriage of 10 years that you could imagine. 9 months ago we were in a bit of a nightmare. Now we're flying. We used to argue a lot. We barely argue at all now, and if we do it's in a healthy way, where we actually come out of it with something positive. She is so much more respectful towards me now. It's like you said where you can bring that side of her out. I could write for hours singing your praises here, but I'm typing this while at work, so I better get going. As someone raised predominantly by his mother and three sisters, I just wanted to say thanks for teaching me how to be a man in a relationship. They should really add your stuff to the curriculum for teenage boys. Simon"
"Hello Mr. Bacon, I just wanted to say thank you. I've watched your program probably a dozen times and I still watch it from time to time to fresh up on the attitude you teach about relationships. I am now happily married to the woman I love and we had our first child in February. She is the woman I bought the program because of, so I could be a better man for her and not lose her. And it worked. I haven't become insecure or lost her attraction like I did with previous girlfriends. Our relationship really has become better now matter what we go through as a couple. Thank you very much for your program. Its probably the best money I ever spent. I regularly recommend your program to my male friends and acquaintances. You are truly the best I have ever learned from. Thank you again for everything. Michael."
"My relationship was failing fast and I was set to move out because my girlfriend had started talking and hanging out with a male co-worker. I got your make her love you for life program. Not two weeks later, I turned it around, by being strong, masculine and confident. It felt a bit fake for me to be so confident and masculine at first because she was dominant for so long in our relationship and she pushed back a little to test me but I held my ground. She told that co-worker he wasn't me and that she didn't want him anymore. We have been on fire since. She desires me now, she knows she can lean on me now and not lead me. A woman needs a real man! I get it now. I see why she was beginning to open up to other guys. It is her and I now. She told me the other day that she wished I was like this before and now sees a future with me. I'll recommend this to anyone who needs it. Thanks, you're doing great work. I would have been single and depressed if I didn't fix this with her. Thank you! Adrian"
To get started, choose from one of the following 3 options:
1. Watch the video version – $297
2. Listen to the audio version – $297
3. Get both the video and audio version of Make Her Love You For Life – Only $327 (you save $267)