If you're texting a girl you like, you should try to avoid chatting too much via text.
Even though she might be shy to talk to you on the phone, a girl will feel 10x more attraction for you when she can hear your voice. You will also be able to get her to meet up with you in person a lot quicker too.
So, make sure that you don't hide behind texts. If you wait too long to call a girl up and make a move, another guy can easily make her feel more attracted to you and start dating her.
An Example of Texting a Girl: Right and Wrong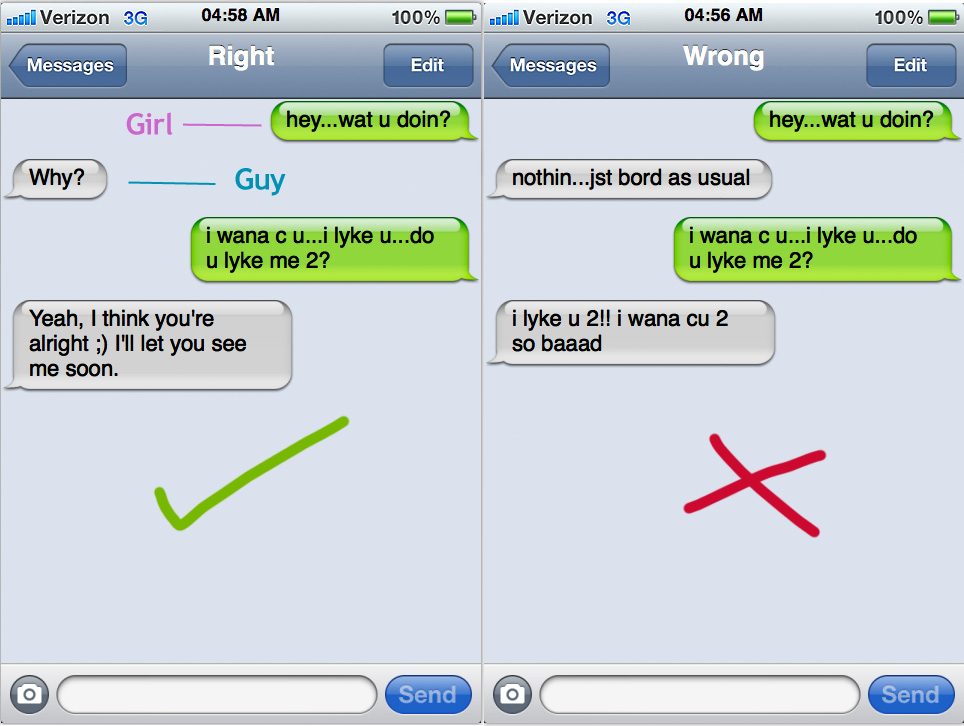 Girls are attracted to guys who are more of a challenge, so if you're texting her, don't be sweet, nice and friendly all the time. Sometimes, you need to be a little hard to get when texting a girl.
Then, when you see her in person, you need to make her feel attracted to you. When she feels a lot of attraction for you in person, she will then try to be nicer to you via text. She will try to get you to show her your sweet side and give her more signals of interest.
Here is an example of NOT being a challenge. Texting a girl like this will make her feel turned off because SHE wants to be able to text YOU that way. She wants to be in the position where she is acting girly, not you…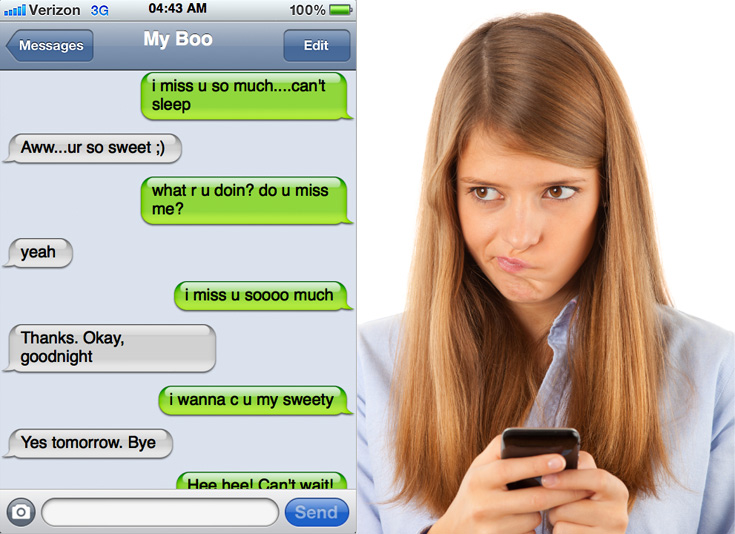 To Text or Not to Text, That is the Question
In this new age of information technology, texting, e-mail and social networking have become acceptable means of communication.
Most of us lead busy lives and do not have the time to talk for hours on the phone so it is often preferable to send a quick text message or write a brief e-mail. However, you want to be sure that you aren't going to mess it up and before you put your fingers to the keypad you need to know what to text a girl you like: examples that will get you a date!
What to Text a Girl You like: Examples of What NOT to Do
There is nothing that will make a woman run for the hills than the wrong kind of text message. And no, it's not what you say that really matters it's the how you say it that makes all the difference.
If you do an online search you will find hundreds of websites telling you exactly what to text a woman to get her to instantly crumble at your feet… WRONG! How can anyone possibly know what is right for each individual person?
No two people are the same and what will work for one person will definitely bomb for another. Ultimately it's not the words that make the difference it's the attitude and the style that will get you that date.
To begin with, when you text a woman, please, please, please do NOT write like a little boy! Abbreviations, smiley faces and lots of kisses (Xxxxx) are NOT very manly; in actual fact that is how teenage and pre-teenage girls text each other. You want to show her that you are a man and that type of girly style is not going to convince her.
Things to Avoid:
– Can I c u l8r?
– what r u up 2?
– Wanna do sumthin l8r?
No, no, no! Write clearly! Maybe you know what all the abbreviations mean but that doesn't mean she does; if she has to spend 10 minutes trying to figure out what you're trying to say then she's going to just ignore you.
Another point to note is that being too lazy to write full words can easily come across as laziness in other areas of your life; and is that an impression you want to give her before you've even secured a first date?
Are You a Man or a Sixteen Year Old GIRL?
OMG! 😀 I'm LFMAO…OMG!!! *Giggles*
Cute! But NOT for a man who is looking for a date, a kiss, sex and a relationship with a woman. If you're a little boy this might work for you but if you're a man looking for a proper relationship, then cute little faces are a definite no, no.
Be clear, be concise, be funny, but above all else leave the cutesie stuff to the little girls.
How to Approach Texting in a Way That Will Keep Her Interested
If a woman liked you enough to give you her phone number, it means that you displayed real man qualities that she found attractive enough to want to pursue further. Your approach to texting has to portray the same message: "I am a real man and I want to get together with you".
Remember that texting gives you limited access; the screen is inanimate and it is difficult to portray the same vibe and magnetism that you have in person, or even over the phone. When texting, all the things that create interest and sexual tension are missing. Examples:
Eye contact.
Body language.
Flirting.
Physical contact (touching her hand, for example).
Your confident, masculine vibe that will naturally turn her on.
It is very difficult to engage a woman with a text; even a really good one. However, the main factors to bear in mind when you consider what to text a girl you like, is that your text has to display the same characteristics as your face to face persona.
When you text her make sure that:
You are behaving like a real man (an alpha male).
You are confident; nervousness can come across in texts too and this is a major turn off.
You are clear with your words and you avoid girly abbreviations and smiley faces; leave this to the kids.
You don't come across sounding needy and desperate; asking "Where are you?", "why don't you answer me", "what took you so long to reply?" can turn a woman off faster than you can type.
You don't become a nag! Give her space and let her chase YOU!
You're not using texting to hide; if you're too afraid to speak to her on the phone she will eventually lose interest and move on to someone else who can close the deal.
You only text because it is a step towards taking it to the next level; you are ready to call her and then to ask her to meet in person.
Texting is a good way to open communication with her but meeting in person, progressing to kissing, sex and if desired even a relationship, is the ultimate goal; so keep your eye on the prize and don't lose your focus.
Use it or Lose it
Okay, so here is the deal; knowing what to text a girl you like, examples and suggestions, will mean nothing if you do not take it to the next level. When you get a woman's phone number, it is the first step in the line to success. Your intention is to:
1. Get her phone number.
You have already achieved this. Well done!
2. Text her to initiate an opening.
Make first contact and open the channels of communication.
3. Phone her and get her to commit to a meeting.
This is the part that will make her want to get together with you even more. Be direct, flirty and charming. Display all the alpha male characteristics that scored you her phone number in the first place and leave her wanting more.
4. Go on a date.
Success! This is what you want.
5. Kiss.
You are now getting somewhere; the ball is now rolling and you are on the way to achieving your goal.
6. Have sex.
Bingo! She likes you. Need I say more?
7. Start a relationship.
Congratulations! You have finally done what every alpha male out there knows how to do; you have succeeded in getting yourself a beautiful woman.
If you don't take it to the next level – talking on phone or going on a date – as quickly as possible, she will loose interest and move on to greener pastures. Like anything in life; if you don't use it you will loose it!
Action Please!
Don't waste time worrying about what to text a girl; the key is to do whatever it takes to get her to be with you in person. Text her, call her and get her on a date as quickly as possible. Be confident and self assured, take charge of the interaction between you and leave her wanting more.
Action is what is required and guys often mess up at this very crucial juncture at the beginning of a "relationship". Being unsure, timid and nervous at this point will lead to failure.
Want to Know the SECRET to Success With Women?
Watch this hidden video where Dan exposes his BIGGEST secret to success with women, which allows you to easily get laid or get a girlfriend.
This video is only available here and you can watch it for free right now.
Yes, I want free tips via email from Dan Bacon. I can unsubscribe at anytime with a click.
Privacy policy
.