Approaching and Talking to Women: For Beginners
Start conversations with women in different environments. Get phone numbers or add women to Facebook and begin dating.
Are you a good guy who has been getting little or no results with women lately?
Do you run out of things to say when talking to women you like?
Do you fear being rejected if you approach attractive women?
Do you often see women that you'd like to talk to, but you stop yourself from approaching because you don't know what to say or do?
Do you find it difficult to keep a conversation going and keep it interesting when talking to attractive women?
Do you often wish that there was an easy way to approach and talk to women and get them to like you right away?
Then this is the course for you!
In this video course, I will share my best techniques and advice for guys who are just starting out with approaching women, or who are getting back into the dating game after a break up.
Here's just some of what you will learn:
How to overcome your fears and approach women with confidence anytime you want.
How to talk to a woman in a way that causes her to feel sexual attraction for you and open up to the conversation.
What to say to start conversations in different environments (e.g. in a bar, shopping mall, on Facebook, on an online dating site, etc).
How to keep a conversation going and keep it interesting.
How to build on a woman's attraction and interest for you by being your true self.
How to get a woman's phone number or add her to Facebook.
As you watch this video program, you will learn many examples of what to say to women when you approach and talk to them.
When you use the examples in this program, finding yourself a new girlfriend will become one of the most exciting things you ever do.
Your dating life is about to go into overdrive.
Try it today!
Frequently Asked Questions
What are the requirements?
A desire to improve your confidence, so you can approach and talk to women that you find attractive.
Internet access to watch the videos online.
What am I going to get from this course?
Over 6 lectures and 1.5 hours of content!
Feel confident to approach women.
Know what to say to start a conversation with a woman in different environments.
Know how to keep a conversation going and keep it interesting.
Develop a connection with a woman and build on her attraction for you.
Get her phone number or add her to Facebook.
Who is this course designed for?
Beginners
Men who want to improve their confidence and conversation skills around women.
Men who are interested in approaching and meeting women.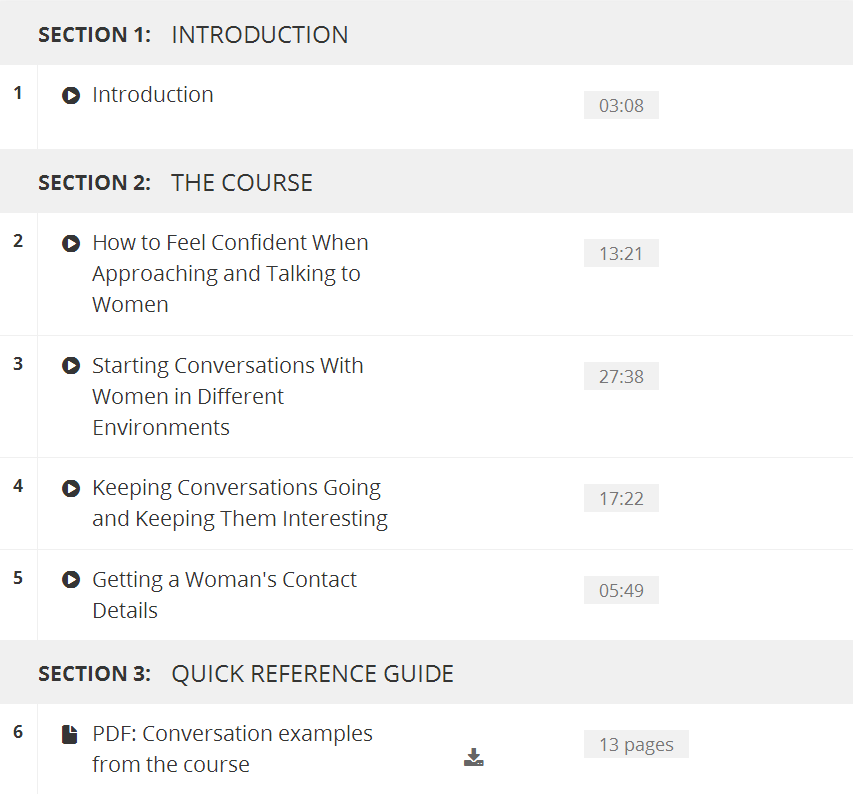 "Easy to learn because it's natural"
Unlike other programs or advice, this program is great because you don't have to change who you are.
It simply allows you to let your best traits come to the forefront and use those when interacting with women.
I feel much more confident and able to start an interaction with any woman I find attractive and keep it interesting.
Great stuff from Dan.
Ethan Johnson
"Awesome Program"
I really enjoyed this easy to understand video.
I have been having challenges regarding know what to talk about with women.
I've also had a tough time keeping the conversation going too.
You give some excellent tips on how to successfully talk with women.
Most of the fears you mentioned I have had.
I also liked the mind sets you put forth as well as practical conversation starters.
I like the attitude you encourage men to have.
I would highly recommend this video series to any guy who wants to unlock the secrets of having interesting conversations with women.
Clint Francis
"Worth every penny and second"
Dan, you have done a tremendous job packing an insane amount of value in learning to be a better conversationalist with women into just about an hour's worth of video.
I'm really happy with this course and keep it up! I highly recommend this to anybody looking to get better with women.
Rohith Amruthur
"Great perspective on how to get conversations started with women"
Dan really gets the point across on how easy it actually is to approach girls in many different social settings and start simple conversations. You don't want to be thinking about trying to pick the girl up or seducing her right off the bat. That's going to most likely make you come across as inauthentic. Being comfortable with yourself is the best attitude to have when approaching anyone. Just think about how you feel when your with your best buds! If your comfortable, the person you're talking to is going to naturally sense that and be comfortable as well. Be present and keep doing it. Everyone you talk to you're not going to be compatible with, absolutely do not take it personally. When you feel compatibility with someone, simply get their contact information and go from there. Approaching and talking to women has been one the biggest fears I've taken on so far in my life. It also has given me one of the greatest feeling of achievement as I've improved on it and stopped worrying about the outcomes and how many numbers I got. I honestly feel that approaching and talking to women is the best skill to have in order to develop the rest of yourself and increase your success of dating the type of women you are interested in. This lecture does a great job in showing you how to do just that. Thanks Dan!
Phil Phillips
"Authentic advice devoid of tacky or creepy pick up lines"
I have being using Dan's advice and products for a while now and his is the best advice out there for guys who want be real and authentic with women. This new course is amazing because its based on being natural and real without having to result to some fake pick up persona, while still getting amazing results. if you are interested in being yourself while still being confident, masculine and attractive to women, then Dan's advice is exactly for you.
Tosin Ogundipe
"Solid down-to-earth advice"
I really like how Dan Bacon's advice relates so well to everyday experiences.
He hits on a number of basics that are musts to keep in mind as you get better with women. I give this a 5 star review.
Jon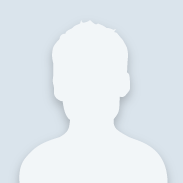 "Awesome course"
Great course that covers how to approach women confidently I would recommend this course to any guy that needs help in this arena.
Kirubel Getachew
"Informative class"
Thanks Dan and the other cats at the Modern Man for putting together another solid educational piece. I really like the online course format with the notes and discussion section. The techniques mentioned in this class as well as some of the other materials go hand in hand. I have had better interactions, more fun talking to and more dates with women since learning this information. My only regret was not learning it sooner haha.
Ronald Black Jr
"More than just women"
Dan is more than helping guys "pick up chicks". He's introducing the world to better relationships, whether long term or short. His in depth view of the male/female dynamic inspires guys to improve as people and allows an opportunity for women to find top notch guys. I highly recommend any products from Dan and his company.
David Tomlinson
"Authentic Advice"
I've been a big fan of the modern man over the past couple years and I know first hand how well Dan's advice works. There are no gimmicks here, just the essence of what it means to be successful with women and how to feel confident as your authentic self.
Ryan O
"This Course is Amazing"
This isn't another course that teaches you how to pick up women with slimy lines and routines. It doesn't require you to act like someone you are not. This course teaches you how to achieve success with women being genuine yourself, revealing how you are already good enough and improving you even more. Truly amazing indeed.
Bill Rose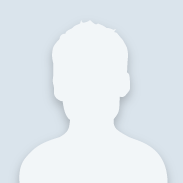 "True advice, helpful and concise"
Great tutorial on how a dude is supposed to act in front of a woman. Your tip on being carefree and easy going is profound yet so simple at the same time. When a girl sees that a guy feels comfortable around her, it in turn enables her to ease up and feel comfortable around you. I highly recommend this course for any guy who has ever struggled with attracting girls, or who needs help with improving his confidence levels. Awesome guide.
Michael Lin
"Solid Material"
Once again I am impressed with your immense knowledge in the social atmosphere. I have been a long-time customer of Modern Man, and I continue to rely on your advice to help me achieve my goals. Not only does your program teach about "picking up women", but also getting my life back on track! I can always count on the Modern Man. Many thanks.
Taylor
"I had instant results"
I have purchased this course along with other courses from Dan. I have seen dramatic results with women right off the bat. I encourage anyone having trouble with women to try this out.
John Garrett
"Lays a great foundation!"
This video course will give you all the basics. Dan puts a lot of time and effort into all of his products, and this course is no different. Learn from him!
Satoshi Ken
"Great Stuff"
Great course packed with tons of good insights on confidants approaching conversations etc. Personally I've gone thru a few course and programs of Dan's and their great he doesn't make this stuff up. If you've been trying to get back into the dating scene or want to experience more women in your life and enjoy it I recommend this course. What can you lose? Im not the only guy giving this a five star its obvious that a lot of people enjoyed the course and got a lot of good things out of it. Don't blow of a great opportunity to better yourself let alone up your game with attractive women. Personally I've done a few programs from The Modern Man and the experience and knowledge you learn will change your mind and make you fill refreshed. Check it out If you like it ( I told you so )
Pat Clayton
"Review For The Older Guys"
Howdy Gents, If you're over 40 and your dating life or relationship is a train wreck or simply non-existent then do not hesitate starting with this course.
I am 42 and spent a very long time in the train wreck zone and completely devastated until I discovered The Modern Man a year ago.
Dan's courses and relationship material have changed my life in ways that I could never have imagined back then.
If this is your first experience of The Modern Man material and you're an older guy like myself then hold onto your hat and take action.
This is just the beginning of a life transformation that every man should experience.
Stephen
"Makes talking to women fun"
I have been a follower of the Modern Man for a while, and so far I have learned so much that with just one of his products I literally got three girls interested on me on a single day, and surprisingly two of them were friends that I thought I would never have a chance (I was friend zoned). This course helped me understand many things I didn't know before and it basically works as some sort of eye opener. It's a shame not much people know about this, because I see women around with their boyfriends and they are a bunch of lame, boring nice guys and their relationship is repetitive and boring, which leads women to say "all men are the same". With this course, you can learn how to be out of the common stereotype women have of men due to the vast ammounts of nice guys floating around, you can be part of the 5% that is different and unique, being completely yourself. For some of you it may be tough at first, I screwed up with various girls, because it's all about practice, some may swiftly get results, and others may take a bit of some time because we are all different, but we have learned some knowledge that when mastered it's so good instead of worrying about approaching women you actually enjoy talking to women, it's fun and entertaining how women are, it's definitely fun. It's like riding a rollercoaster, at first you feel nervous and may even regret doing it, but after a while, you would like to ride one hundred different roller coasters because it's awesome. That is basically how it works, take this knowledge, put it to practice, stop worrying and most of all enjoy doing speaking to women.
Kevin Manzano
"Great course"
The information given by Dan in this course is really helpful. After taking this course I can now see how I was going wrong with women in a number of different ways. I can recall screwing things up with a number of different women I liked in recent years, and this course has really opened my eyes as to where I have been going wrong. I'm looking forward to putting this new information to good use, and to having some much better results with women in the future!
Russ Cook
"Conversation skills made easy!"
Dan's course breaks down the art of conversation into bite sized chunks that are easy to grasp AND apply! In addition, he adds in some of the subtle clues into the proper attitude a man should hold. And the cues that women are looking for.
CG Baker
"Life Changer"
I have found this and other material by Dan Bacon to be most beneficial in areas of interacting with women. But has also improved many facets of my life in that the key element with masculinity is your mindset and attitude about life, and as you can imagine this knowledge will help in just about every aspect of whatever it is your doing. really appreciate what you have done Dan.
Jonathan Chappell
"Solid, No-BS Info About Talking to Any Woman"
n this excellent course–which is short enough to get through in less than one evening–Dan discusses the basic principles of starting and carrying out conversations with women you're interested in, all the way to getting her number. And he provides some pretty great examples of the concepts so you can go out and try them yourself. Highly recommended; this stuff works!
Pigeon
"Success with women made simple"
I really enjoyed the course because it taught me that the best thing is to keep things simple, be easy- going and confident when interacting with women/people. I tend to think and make interaction with women too complicated when the best thing is really just too keep it simple and easy-going.
John Anderson
"Clear cut advice"
Dan is a great instructor, he is able to clearly explain the steps needed to be taken to get started to approaching and talking to women. Dan also dispells a lot of myths and false belief a lot of men hold on this subject in the course. Great information all round.
Werner Heisenberg
"Really helpful"
For someone without experience like me (a really beginner) this is the best stuff.
Masoud Talebi Darestani
"A Great Introduction"
I own several products from themodernman.com. This course provides an excellent introduction to those materials and actually provides what I think are many of Dan's best tips from the more expensive courses! It would be good for both someone new to this or provides a very good summary to those who are already familiar with Dan's other products so I think this is excellent value.
One of the things I particularly like is that Dan teaches you to be yourself and not to put on a kind of persona.
He provides plenty of examples of things to say, but you will get the best use out of it if you adapt them to your own personality and to the situation.
David
"Top notch"
This course and a couple other Modern Man products I got a while back are some of those pieces of information that are so ridiculously useful you are really grateful to be able to get your hands on. Once you start applying the techniques, you do not only feel immediately amazed at how effective they are, but you start becoming so confident at this and every other area of your life that I guarantee you you won't want to stop improving yourself.
Thanks to the confidence and skills I gained using the programs, I quickly got to a point where I wake up every morning feeling stronger, more capable and fully excited to be alive, but most of all, I now live every day being happy and content of being my self; it has helped me *that* much.
Although I've never met him personally, I can assert that Dan is one of those people that really push the envelope. This advice is top notch, from personal experience I can tell you you won't find information that matches its quality anywhere else.
Carlos A Uribe
"Just watch it! Better than any of the other stuff out there!"
In this series of video tutorials Dan Bacon gives excellent examples of how to just go up to women and talk to them. And it works!! He explains how to get your mind-set right by just focussing on being authentic and real and how to approach women with confidence – anywhere, anytime! So I tried it.. It was scary at first but then I suddenly found it was ridiculously easy to just go up to women, talk to them and have them like me and be attracted to me and start flirting with me!! This is an awesome set of tutorials, well worth the money. I would definitely recommend this course to anyone who is finding it hard to make that first vital step in meeting and dating hot women. I have since checked out his website and his other courses are actually really really good and have helped me A LOT. Just go for it!
Rudolph Steiner
"The best approach to women is being the real you"
I've been following the advice of The Modern Man for quite awhile now. One thing that stands out to me is that Dan here is genuinely interested is helping men enjoy women. In this course he touches on certain important points in approaching and interacting with women. Nice guys take note: being guarded and emotionless is your first-class ticket to the friend zone (or worse). I should know, being a recovering nice guy. If you've ever interacted with women and could tell that the interaction was going south because this girl acted just like the dozen others who friend-zoned you then take note! It might not just be the girls, it may instead be you. A wise man realizes this and learns from his mistakes. He then seeks the knowledge of those who know it best. You won't be disappointed with The Modern Man. I haven't been.
Matt Larson
"This advice really does work in real life"
I really like this course. The basic premise is to be honest, authentic and real when approaching women – I like the idea that women would like me for being the real "me", not some fake persona. Dan explains what women want to feel while interacting with a man, this was very heplful to me, because I did many mistakes while talking to girls that turned them away. Dan also gives various examples on how to approach women in different environments. I really feel more confident after watching this course, it is very simple, the advice given here really works! I recommend this course for every man out there, not just for beginners because I think everyone can benefit from advice given in this course. Guys, don't hesitate and just take this course 🙂
Andy Urban
"Things every man (who wants women in his life) should know"
This is a GREAT guide to the basics of interacting in effective ways with not only women, but with people in general. A lot of guys are under the false impression that learning to interact with women in a way that makes them feel attraction for you is a long and complicated ordeal. However, as Dan clearly illustrates in this course, the process is actually VERY SIMPLE once you get the right information. Dan provides the basics here in a clear way that is very easy for any guy to understand, and the best part about the information contained in this course is that IT WORKS. Any man who wants real success with women by making them feel mental, emotional, and sexual attraction for him needs to know all the information contained in this course. Love the work you do Dan, keep it up!
Cameron Olson
"A gateway into a whole new life"
If you've found Dan and themodernman frankly you are incredibly lucky theres so much garbage on the net when it comes to advice surrounding women and socializing and bettering yourself you just don't come across information this good on the internet everyday. Everything you need to get better with women and socially is on Dan's website you just have to be prepared to give what you are being taught a go. Most guys go through their entire lives missing out on living how they really want to live as said up top if you've discovered Dan and themodernman you've struck a gold mine of information that will allow you to be who you want to be in this world.
Jack
"Simple, straightforward dating advice"
I have some of the products at the Modern Man and they are all about becoming a better version of yourself, not about trying to trick or deceive women by pretending to be something that you aren't.
This course goes along the same lines and there resides its strength and value. Dan gives you the knowledge and techniques to succeed with women; it is now down to you to deliver the goods.
This course (and the other products on his website) will steer you in the right direction, carrying the necessary baggage to reach your destination. Put this information into action and you will definitely go places.
Javi Lovey
"I'm actually starting to feel confident thanks to this"
It has taken me so, so long to feel confident in other 9 years (since I started High School, now 21). Friends of mine give me a lot of information that I'd use to pick up women and they only made things worse for me. Watching this all the way through, I'm starting to actually feel like I can do this. I've had girls who have told me what are my good features and never believed them, but this course made me realise how right they were and that women want to be with me. Dan, thanks! For someone with aspergers and has zero confidence, I feel that I can really do this. 🙂
Callum Doig
"Best advice ever"
From my experience of using the modern man dating products, I find dan bacon and his team to be nothing but exceptional not only in how accurate advice they offer but also how they dan bacon and his team dont use pua or manipulation tricks, this makes modern man so different from your usual pua or pickup artist. This course is simply brilliant for people who dont feel so confident about approaching women, the course is second to none, dont hesistate buy the course and you'll find its money well spent.
David Hayward
"Great introduction for a great price"
This course is really a steal guys. What I like most about this course is that it doesn't get you stuck on any of the weird PUA advice out there which can be detrimental if you happen to be a self help junkie of sorts. I say stick with Dan. This course really makes conversation and dating with women easy. It may seem simple, but talking to women really is simple. Dan is straight and to the point. At the end of the course he even gives complete notes with time stamps. I found that very impressive since I tend to take notes on Microsoft Word. Thanks for the course!
Alex Johnson
"Learning how to be the best with women"
The things Dan and his company the modern man have been teaching have been a great improvement for my life before then couldn't even talk normally to a girl but now i have the confidence to go a talk to then even when i don;t know then. Hope you keep helping guys with the same problems i got.
P.D: sorry if i got i any grammar mistake not native english speaker
Alejandro Lozada
"Superb Knowledge"
I want to recommend this program to anyone who struggles to start a conversation with beautiful women and instead see it as a fun and worry free process. I had hard time talking to women for a long time , but with this new information I am sure I will succeed. Don't hesitate and put everything you learn here to practice.
Pedro Talavera
"Works in real world!"
After digging myself out of the weird and wacky world of PUA, I was so stoked to find Dan and his Modern Man company – these guys are the real deal, with advice and tips that actually work in the real world. This course is a great quick start guide for those that are time-poor and ready to hit the ground running.
Truant
"Excellent course! I really enjoyed it"
I really enjoyed this course. it was very interesting to listen to Dan's advice it really made a lot of sense, I have also visited the modernman site and i have gained so much from some of the courses. it really does change your life and i cant recommend this course or any other courses Dan does highly enough
Craig Mcgovern
"Brilliant intro to better conversations with women"
Dan covers the basics of talking to and flirting with women extremely well. As a fellow Aussie, I like his easygoing approach, the lack of pretense and the specific examples for injecting a bit of cheekiness into conversations. This is probably the best introductory material I've come across on the topic of beginning conversations with women.
Keiran Dinnie
"A 5 star course from a 5 star instructor"
I first stumbled upon Dan's work a few years ago. Since then I've watched a few of his programs, and I have to say that his philosophy just works. If you put his theories into practice(important) you can't help but improve this area of your life! This is a great introduction for beginners and will definitely help you with women and dating.
Oddur Oli Jonasson
"Take this course – you will be pleasantly surprised"
I really would recommend this course to any guy looking to improve his skills and confidence when meeting and talking to women. Dan provides genuinely helpful and practical advice which leads to positive results which improve your confidence and raises your expectations which in turn makes you want to approach more women.
Sam Wiseman
"100% sound advice helped me on my way"
This course, as well as knowledge i have gained from other TheModernMan programs has really changed my outlook on approaching women, and has allowed me to start a relationship with a beautiful women. This advice has not only helped me approach women, but i have also become so much better at communicating from this. I would recommend this to Anyone!!
Andy Benny
"Simply Awesome"
This course not only lets you know what you need to know, it also has a bit of in-depth info on why things are the way they are. Whether you're new to the game or have a bit of experience, this course will help you.
Walter James Bandojo
"Value for money"
I found this lecture very informative to say the least! It is so awesome that Dan has done all the research and experimentation so all we have to do is learn it and put it into action! I wish I knew about Dan and his The Modern Man material in my teens!
Jack
"Excellent course for beginners"
This course covered a lot of basics and is a good starter guide to what Dan Bacon and the rest at The Modern Man have to offer.
Some things were very helpful and but as a customer of this course I can say that these techniques work and I have benefitted greatly from it.
Pranav Nayak
"A practical guide to interacting with women"
From start to finish: I now have the information to get multiple women's numbers and have a step y step guide so I am never uncertain again. Thanks Dan, it was a nice refresher for some of your bigger programs
Nick
"Just amazing"
Top notch advice. A beginner will certainly find a lot of eye-opening concepts in this area and even an experienced guy can use it as a refresher of some techniques and behaviours.
Carlos Hatchett
"Awesome!"
Great advice that really works!!
Daniel Proos
"A great course for every man"
It's a very good course for every beginner out there, very interesting conversation styles…
Adeyemi Olaopa
"Brilliant"
Dan is the best. This was short and sweet with a lot of useful insights. Thank you Dan!!!
Andrew
"Well presented"
Great course on how to gain confidence & communicate with women
George Blackwind
"Fanastic and simple resource for meeting women!"
I have invested in Dan Bacon's products for many years now and remain impressed with his work. What I liked about this course was that it was brief but very effective! You will NOT fail to meet women if you follow Dan's advice in this course. Thanks Dan, splendid work as always!
P.S. If this course has left you wanting more, I strongly recommend The Modern Man's Ultimate Guide to Conversation programme!
Jared Baglietto
"Fantastic"
The course is a fantastic resource that gives really good advice on getting the girl/or girls that you really want and it provides examples of things that you shouldn't do as well as providing examples of mistakes guys make. As long as you learn and take action on the advice given in the course, you will get great results with women.
Francis Gyau
"Solid advice that works"
Been a follower of the Modern Man for years and I will say Dan's advice is worth double of the price he asks for!!!!
Taiwo K. Akinmboni
"Five Stars"
I really find dans' videos helpful, Cuz he's got a different approach and understanding about women and relationships, I've been watching his videos for about a year, I've bought all of his programs at themodernan.com and I've found in all of them a very useful knowledge about handling women, how to attract them, and how te be a real man in general. Another good thing about this video in particular, is that it resumes pretty much de basic stuff so you can understand basically what his philosophy is, and it teaches you exactly what you need to know to start right now. Strongly recommend to see the video, and to take a look at the whole philosophy in general, Cuz It works for me, and Im sure it can work for anybody else.
Alex Puertas
"Perfect for beginners"
I've been a fan of Dan and themodernman for years and he is someone I trust and can confidently recommend to other men looking to improve their success with women. This course is perfect for beginners who need to be re-programmed with the way they view meeting women. A great introduction into what Dan and themodernman teaches. Highly recommend their other products too, well worth the investment.
Kaleb
"All Around Awesome Course"
All of Dan's videos are extremely clear and directly applicable to everyday situations. This stuff really works. I went from not being able to talk to women to dating six girls at a time and girls trying to meet up with me while u sit back and enjoy. Really awesome stuff!
Brent McCollough
"Highly Recommended"
This is a great course containing a lot of the key concepts Dan at the Modern Man teaches. Whether you are new to the Modern Man or just need a refresher, this is a good direct condensed version with the most important information to get you on track in a hurry.
Bret Staehling
"Fantastic course. Easy to learn"
Everything in this course is fantastic & I love the examples given for the different environments to use different conversation. I learnt a lot from it & realize how easy & straight forward this course is. Top notch advice, highly recommended!!
Amrish Patel
"Amazing"
This is great advice. I can't wait to use what I have learned this weekend when I go out! Thank you for making the course, this is just what I needed to learn.
Richard Palino
"Excellent course!"
Great info for men looking to improve this area of their life!
Philip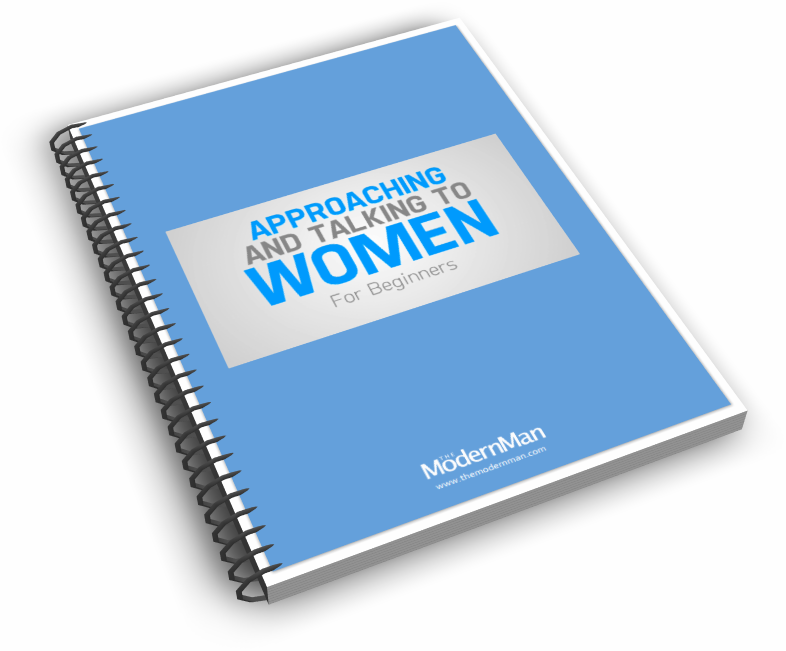 You also get Quick Reference Guide (shown above) with all of the conversation examples from the video course. Each example includes a time stamp, so you can go back and watch specific examples from the video course.
30 day money back guarantee.
Lifetime access to the course.
iPhone, iPad and Android accessibility.
50% discounts on our advanced programs.
Free, lifetime support from Dan. Simply post up a comment on the site and Dan will reply.
Want to Know the SECRET to Success With Women?
Watch this hidden video where Dan exposes his BIGGEST secret to success with women, which allows you to easily get laid or get a girlfriend.
This video is only available here and you can watch it for free right now.
Yes, I want free tips via email from Dan Bacon. I can unsubscribe at anytime with a click.
Privacy policy
.