Have you ever been walking through a shopping mall and seen a beautiful woman that you wanted to approach and meet?
If you are a man and you have eyes, then you will have answered YES to that question!
Shopping malls are FULL of beautiful, single women who are often out shopping on their own and not being approached by other guys.
With the right techniques, you will easily be able to get 3-4 phone numbers from beautiful women in an hour while walking through a shopping mall.
It really is that easy.
However, if you don't know what you're doing – approaching a woman at the mall can be a anxiety-filled and sometimes (depending on how you view things) humiliating experience.
Approaching a woman in a shopping mall is COMPLETELY different to in a bar, or at a party for example.
You can't use the same approach that you'd use at a bar to meet women in a mall.
To successfully pull off an approach in ANY environment, you must adjust:
What you say to start the conversation.
What you talk about to continue the conversation.
The volume of your voice.
How long you talk to the woman.
Your body language.
Your energy level and 'vibe'.
The amount of flirting and humor you use.
The amount of eye contact you make.
What you say to get the woman's phone number.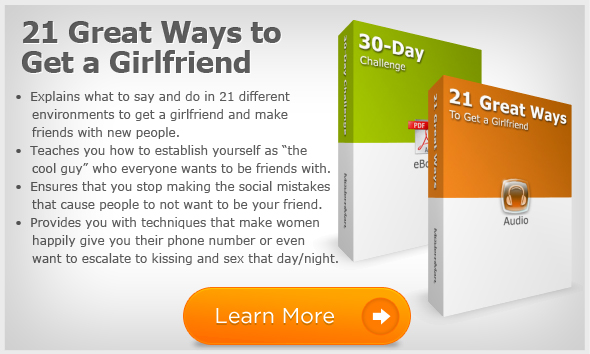 It may seem like a 'scary' or difficult thing to approach a woman in a shopping mall and get her number, but here's the thing: 9 times out of 10, she will be flattered that you approached her! Women DREAM of being approached by a guy in this environment (because it's what happens in romantic movies), as long as the approach is done correctly.
If you'd like to learn how to get phone numbers the next time you're walking through a shopping mall, listen to 21 Great Ways to Get a Girlfriend. Some of the benefits of listening to this amazing program include:
Maximize your chances: Most guys who struggle with women only use a couple of ways to try and find a girlfriend. With 21 Great Ways to Get a Girlfriend, you'll learn the easy way to meet and begin talking to women in different environments. Whether it's the girl standing in line at the gas station, a hot woman walking through the mall, a woman you already know, or the hot chick serving you from behind the bar – you will now know exactly what to say and do to get her on a date with you.
Get results faster: How much of your life have you wasted so far hoping that one day, something will 'magically happen' with a woman? Meanwhile, other guys are getting loads of love, attention and affection from the kinds of women you want to be with. 21 Great Ways to Get a Girlfriend will show you how get results days and weeks from now – not years. Before you know it, you'll wake up with a beautiful woman next to you in your bed and smile, realizing that you're finally living the good life.
Know what to say in each situation: How do you let a woman know that you like her, without getting rejected and ruining the friendship? What can you say to the beautiful woman you've just walked past in a bookstore that will make her turn to you and eagerly want to make conversation with you? How do you write an online dating profile that gets attention and will even make some women contact you first? All of the answers and more are in this amazing program.
Eliminate other guys as competition: If you're not that good with women yet, there's no point trying to compete with other guys for the attention of beautiful women. In most of the 21 Great Ways to Get a Girlfriend, you will be in environments where other guys won't get in your way.
Hold her attention: If you can't firmly hold the attention and interest of a woman for at least 5 minutes, your chances of getting her phone number are often lost. In this program, you will learn what to say and do to maintain a woman's interest, get her phone number and have her eagerly wanting to go on a date with you.
Meet women without needing a wingman: Sometimes your friends don't want to go out on the weekend. Sometimes they're not available. Sometimes they don't want to approach women at all. If you are single, this then leaves you in a tough situation. Your life gets wasted, even though you'd rather be having sex with women and enjoying love and relationships. Good news: Every one of the 21 Great Ways to Get a Girlfriend can be done alone, or with a friend. Better still, in many of the situations you will also make new friends as well as setting up dates with new women.
Fill your life with beautiful women: When you have women in your life, you feel better about yourself. Life feels good, it feels balanced and natural. During the week, you can hang out with your girlfriend, have sex and enjoy each other's time. You can also catch up with female friends and do fun things together. On the weekend, you can catch up with friends some days and have your girlfriend come over on other days. You never feel alone. Instead, you feel loved, accepted and included and life feels great.
Make new friends: In many of the 21 Great Ways to Get a Girlfriend, you will be in situations where you can make cool, new friends. Dan, Ben and Stu provide the 'how to' on establishing yourself as the 'cool guy' in social situations, so guys want to be your friend and women want to get into your bedroom.
Be her dream guy: All over the world right now, hundreds of millions of single women are fantasizing about being approached during the day and swept off her feet by a man they don't know. It's a romantic fantasy that you often see played out in movies: A guy 'accidently bumps' into a woman during the day and then starts a conversation. Hours or days later and you and the woman will be having hot, passionate sex. You can be that guy.
Keep her interested: As her 'dream guy', you will enjoy a lot of control. The more she loves you, the more control you have over the relationship. She won't want to leave you, or cheat on you because you will be the most special guy she's ever met. You will be the guy she has been waiting for all her life. Her friends will be jealous and wish they could find a guy with confidence like yours.
Meet women during the day and night: Sticking to bars or the occasional house party as you way to meet women can mean many months (or years) of loneliness. With 21 Great Ways to Get a Girlfriend, you will have 21 different ways to meet women during the day and night. Women will begin to flood into your life like never before.
Improve at a rapid pace: As you apply the techniques revealed in this program, you will experience superfast improvements in all areas, including: Approaching women, starting & continuing conversations, getting phone numbers and moving towards a kiss and a first date. There's simply no faster way to improve your skills with women than by listening to this program and following the step-by-step instructions.
Get better at making conversation: Do you sometimes run out of things to say to women during conversation? You'll be pleased to know that each of the 21 Great Ways to Get a Girlfriend comes with different examples of what to say to start and continue conversations with women.
Have choice: As a man, there's probably no worse feeling that knowing that you are secretly accepting 'whatever you can get' when it comes to women. It makes you feel like you are betraying yourself, accepting second best and not living your life the way you really want to be living it. When you use the 21 Great Ways to Get a Girlfriend, you will be able to choose who you date, rather than accepting whatever you can get. You'll also begin attracting and dating beautiful women – the kind that you really want.
Want to Know the SECRET to Success With Women?
Watch this hidden video where Dan exposes his BIGGEST secret to success with women, which allows you to easily get laid or get a girlfriend.
This video is only available here and you can watch it for free right now.
Yes, I want free tips via email from Dan Bacon. I can unsubscribe at anytime with a click.
Privacy policy
.