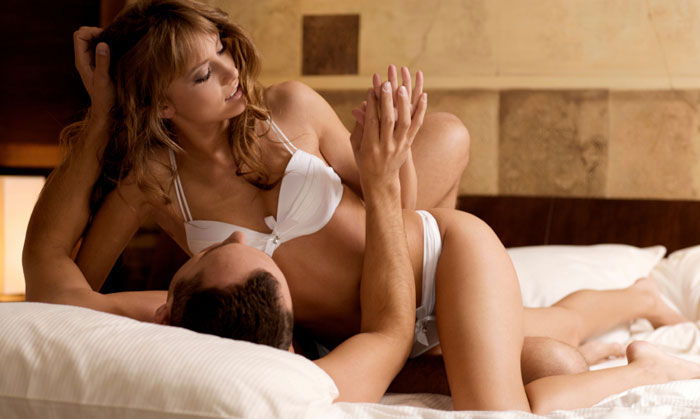 Every man can learn how to seduce women into love, sex and relationships. Learning how to seduce women won't take you years of practice. In fact, you can learn everything you need to know about seduction in a matter of weeks, starting right now.
How to Seduce Women: Lesson One
The first thing that you need to know about seducing women is that they actually want you to do it. Many guys don't realize that seducing women is acceptable, so they put on an act of being a really nice guy and hope to get a chance that way.
Yet, being really nice to her isn't the answer and here's why…
How to Seduce Women: Lesson Two
The second thing that you need to know on the topic of how to seduce women is that it's all about building up the woman's attraction for you.
We men feel an instant attraction to a woman's physical appearance and that is usually enough for us to want to have sex with her, or even begin a relationship with her. However, for women, their attraction for us needs to be built up.
Watch this video to understand why…
Seducing New Women That You Meet
Imagine yourself at a nightclub or bar filled with beautiful women. As you look around, you see several beautiful women that you'd like to meet and seduce. You choose the woman that you like and then.
Approach her with confidence.
Start an interesting conversation and get her attracted to you so that she doesn't want you to leave.
Create a sexual vibe between you, without coming across as sleazy.
Switch the tables so that she feels compelled to seduce you and is hoping that she gets to hook up with you.
Go from a conversation to a kiss and then to sex that night.
If you lack the confidence to approach women that you find attractive, you might end up falling for women that you aren't even that attracted to and then convincing yourself that she is the woman for you.
The best way to succeed with women is to actively approach the women that you find attractive and then make them feel attracted to you based on what you say and do during the interaction.
Seducing Women That You Already Know
Most guys know a woman they would love to begin a sexual relationship with, but are unsure how to feel the same way. In most cases, the guy is stuck in the friend zone because he hasn't been flirting with her and has just been acting like a very nice and innocent friend.
To seduce a woman, start by being honest about how you perceive her. Don't say, "You look nice" or talk about the weather with her. Instead, say "You look sexy" and then begin flirting with her.
Flirting (verb): Behave as though attracted to or trying to attract someone, but for amusement rather than with serious intentions.
How can you be sure that she is interested in you before you make a move? Simple: If you are making her feel attracted to you, then she will be interested in you. The more attracted she is, the more interested she will be.
When a woman feels attracted to a guy, she then becomes excited about the idea of being seduced into having sex with him. However, if a woman doesn't feel attracted to a guy, she will reject his attempts to seduce her.
To be successful at seducing women, you have to start with attraction. If you try to skip the attraction step of the process, women will reject you almost every time you try anything.
Who Am I and How Can I Help You Seduce Women?
My name is Dan Bacon and I used to be a lonely, single guy watching in the shadows while everyone else around me enjoyed love, sex and relationships. Eventually, I got sick and tired of having to use porn every week to calm my built up desire for women. I wanted to seduce and have sex with real women, so I got to work and figured out the secrets.
Today, The Modern Man is the world leader in teaching men how to seduce women the natural way.
Personally speaking, I no longer have to worry about being dateless or not having a sex life. In fact, my social life has been so busy for so many that I've honestly had to turn women away…and many of these women are beautiful, intelligent, down to Earth type of girls who most guys would kill to be able to date.
After having sex with more than 250 women, I seduced a 20 year old girl into a relationship with me and we recently married.
Fortunately for you, I've already done all the hard work to work out how to seduce women, so learning my system for success with women will NOT take you 5 years like it did for me. All the information you need on how to seduce women is only a few clicks away and you can start learning now.
Here is just some of what you are about to learn from me:
What to say to a woman so she enjoys your conversation, finds you interesting and begins to fall in love with you.
The secret to filling your life with beautiful women who want to be your girlfriend. The guys who know this secret DO NOT want it revealed, but I share it here.
How you can seduce your dream girl that you've never had the nerve to ask out.
How you can seduce women and get them into bed with you on the first night or first date.
How you can recover from a bad first impression and make any woman want to be your girlfriend.
Prepare to wave goodbye to the lonely, single life and prepare to begin having sex with the woman (or women) you've always wanted to seduce.
Ready to begin?
Want to Know the SECRET to Success With Women?
Watch this hidden video where Dan exposes his BIGGEST secret to success with women, which allows you to easily get laid or get a girlfriend.
This video is only available here and you can watch it for free right now.
Yes, I want free tips via email from Dan Bacon. I can unsubscribe at anytime with a click.
Privacy policy
.