Having a threesome is considered to be one of the top male sexual fantasies and contrary to popular belief, it's also a top female sexual fantasy too.
However, the problem is that sexual fantasies are usually meant to be just that, fantasies.
In life, you don't have to make all of your fantasies become a reality to be happy.
It's fine to imagine doing some crazy things that may mess up your relationship, but that doesn't mean you have to follow through on it.
Some couples do act out the fantasy of having sex with other people, but from my personal experience helping 100s of men fix relationship problems, I've never heard of a threesome improve a relationship.
According to studies done on the subject, rather than revving up the sexual spark in a relationship, bringing other people into a relationship rarely works out in the way it was intended.
Should You Go Ahead With the Threesome?
It depends.
If you know that you aren't intending on staying with your girlfriend for life, then go ahead and enjoy it.
Sure, it may end up causing you and her to break up a lot faster, but at least you get to experience a threesome.
On the other hand, if you are intending on marrying your girlfriend and staying with her for life, then having a threesome probably isn't going to help your relationship.
Watch this video to understand the 5 stages that a relationship goes through…
If you have a threesome, it will become very difficult to keep the relationship at the blissful love stage if either of you develop insecurities about it.
However, having a" three way" might work out to be a good thing if both of you are:
Completely committed to each other.
Absolutely secure in the fact that you both find each other incredibly attractive.
Only doing it for a bit of fun because you are both daredevils and love to push the limits.
Are not looking for an easy way out of the relationship by hopefully falling for someone else and then leaving before the other person finds someone new.
That last point there is usually the problem point.
If your girlfriend is already thinking that if she likes the new guy, she will continue seeing him on the side in secret and then eventually break up with you if she has feelings for him, then having a threesome isn't going to be of benefit to you.
Instead, it's just going to be an easy way for her to break up with you and move on without you before you find another girl.
That way, she can escape the pain of being the one who was broken up with.
Yet, if your girlfriend only wants to have a threesome with another woman once (e.g. because she's always been curious about what it would feel like to be with a woman, or she wants to feel the jealousy of you being with another woman), then it should be okay.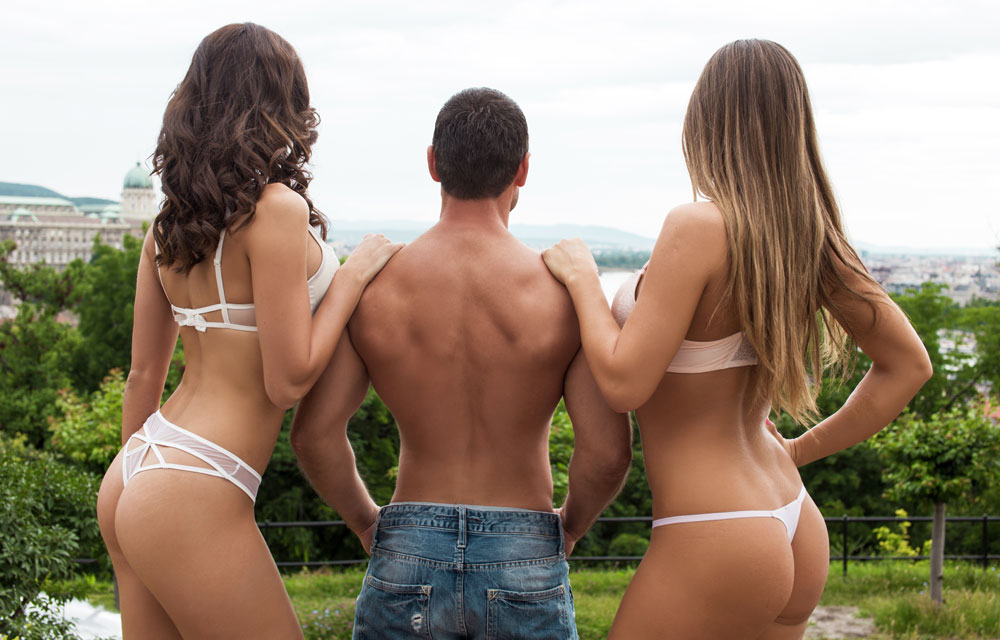 Not all relationships are intended to last for life and your girlfriend may just be with you for fun for a while.
That's okay if you're cool with it.
You and her can enjoy yourselves and explore different things together, as long as you know that the relationship will probably end in the near future.
In most cases though, having a threesome might be a shared fantasy, but the chances of you both getting out of it what you originally imagined is unlikely.
A threesome will usually just cause a couple more pain, problems and heartache than it's worth.
Of course, the exception is when you and your girlfriend aren't very committed to each other, are just with each other for fun and are secretly intending to break up one day anyway.
What's it Like to Be With Two Women at Once?
Personally speaking, I've had three threesomes in my life and while it was good for my ego, it wasn't that amazing in terms of the sex.
It was enjoyable, but it isn't something that even makes the top 5 list of great things that I've done in my life.
Essentially, you've got two women who are looking to take turns to ride your rod and if you ignore one of them, she usually feels left out and sort of becomes useless unless you're instructing her to do extra things (e.g. play with your balls, suck the other girl's tits, etc).
That said, there are some really good moments and it does feel great where you're skin-to-skin with two women and they're taking turns to kiss you, while stroking your middle leg.
It's nice, but it doesn't compare to the heart buzz you get when you're kissing and having sex with a sexy woman that you truly love.
It is fun though.
The most glorious moment that I had in a threesome was when I was standing on a bed and the two women (that I picked up from a nightclub) were on their knees taking turns to suck me off.
That was pretty good.
However, I have to be honest and say that nothing compares to the love, sex, intimacy and companionship that I've shared with my girlfriend (who recently became my wife after a brief engagement period) over the past 2.5 years (this is her if you wanted to check her out).
I'm not saying that to be nice to her or to be politically correct. It really is true. She is more than enough woman for me.
I don't have any desire to add more women into our relationship and I certainly wouldn't approve of her wanting to add a guy into our bedroom.
If my wife wanted that, she'd be dumped in an instant if she didn't change her mind. There's no way that I would put up with that sort of emotional disloyalty.
Of course, she wouldn't ask for that because I've chosen to marry a hot, sexy woman who is as loyal as it gets.
She is all for family, sticking together for life and laughs at any idea of ever breaking up or giving up.
She's once said that it would be a nightmare for her to try to find another guy like me.
I'm not saying that to brag, but to point out something important about your girlfriend…
If your girlfriend wants to have a threesome, she probably isn't seeing you as a guy that she wants to keep all for herself for life.
She might start out saying that she just wants a threesome with another woman, but that may turn into a request to add a man into the mix if she sees you enjoying yourself with the new woman.
In theory, having a threesome when in a relationship can work for some people.
However, it takes emotional maturity and a high level of confidence in all three people involved to be able to handle the reality of acting out a fantasy and then parting ways without destroying the relationship.
Personally speaking, my wife is very confident and knows that she is hot, but I know that she wouldn't be able to handle seeing me with another woman.
She just wouldn't want another woman getting the experience that she gets with me in the bedroom. She booked that for herself when we said, "I do."
However, I did have a girlfriend about 4 years ago who was keen on having a threesome with another woman or man.
It never happened, but I eventually broke up with her anyway because she wasn't the type of girl that I could trust for life.
She wanted to settle down and start a family, but her parent's were divorced, her best friend was divorced and she didn't think that there was anything wrong with that.
She saw divorce as normal and almost expected, which was one of the main reasons I broke up with her.
What about you and your girl?
Is she serious about you? Does she want to settle down with you? Is she just with you for a bit of fun for a while?
You have to get clear on that and then make your decision based on that.
You might feel like you really love her and don't want anything to get in the way of your relationship, but if, deep down, you secretly think you will break up with her one day, then you should probably open up to the idea of having a threesome.
Examples of How a Threesome Affected a Relationship
The names and some details have been changed to protect privacy, but this is roughly what I was told by two phone coaching clients…
Tom's story
"When my girlfriend first suggested the idea of a threesome, I couldn't believe my luck. I thought to myself, how many guys get to say 'my girlfriend wants a threesome' in the real world, I thought it was just something that happened to rock stars, celebrities or pro athletes. I was really turned on by the idea and she couldn't wait to start discussing which people we should invite into our bed. That's when things changed for me. She was talking about women that she knew who would be interested in taking part and it was clear that she was really turned on just thinking about it. She said that she had always wanted to kiss a few of those women and had fantasized about having sex with them. I then started to wonder if the sex with me was no longer doing it for her. I started to feel like maybe I would just be the "extra" person in the bed, so I then became insecure about my role in her fantasy. That insecurity led to me to begin doubting myself and doubting our relationship, and my constant need for reassurance from her after that, eventually led to her changing her mind about the threesome. A few months later, she broke up with me."
Drew's story
Drew's story is different to Tom's in that he and his girlfriend went ahead with the idea of acting out her threesome fantasy.
Again, this isn't exactly what was said, but is based on my memory of what was said.
"At the time the idea first came up, all I was thinking was – awesome! The idea that there might be drawbacks didn't enter my mind. However, after the event I realized that I probably enjoyed the experience more than she did. When we talked about it, she said that in her fantasy she got aroused by watching me with another woman, but in reality she felt insanely jealous and it hurt her to think that I might be enjoying sex with another woman more than her."
The fallout from the event is that Drew's girlfriend then had much lower self-esteem around him than before and became insecure about being naked around him.
She compared herself to other women all the time, and questioned Drew's feelings for random women that he would happen to mention in conversation.
For her, acting out her fantasy was a mistake because she had not considered the emotional impact it would have after the fact.
For Drew, he essentially said…
"Having a threesome was not all it's cracked up to be. I had a great relationship with my girlfriend before we went ahead with it and now we're struggling. We've gone from having an adventurous and active sex life to hardly ever having sex at all. It was fun, but it's not worth breaking up a relationship over. Now I want to repair this, so what do I say to her? What is my next move here?"
What Will Your Next Move Be?
If you don't want to let a threesome ruin the great relationship that you have with your girlfriend, explain to her that in life, people don't have to act out random fantasies to be happy.
Let her know that millions of couples from all over the world have worked out how to remain happy and in love for life, without having to add other people into their bedroom.
On the other hand, if you don't care about messing up your relationship with her, go ahead and enjoy yourself in the threesome.
The Easy Way to Get Her to Love You Again
Getting her to love you, respect you, touch you and want you the way she did in the beginning, isn't difficult at all.
In fact, it's one of the easiest things you'll ever do.
So, if your woman isn't showing you the respect, love and affection you deserve, watch this eye-opening, life-changing video by Dan Bacon to find out what you've been missing.
You will discover what she has been WAITING for you to do, but will probably never tell you about.
It's so simple and it works.
Watch the video now to find out more...
Yes, I want free tips via email from Dan Bacon. I can unsubscribe at anytime with a click.
Privacy policy
.