What is Keeping You From Meeting a Beautiful Woman?
Have you met, dated and had sex with a beautiful woman lately? If not, why? What is keeping you from meeting a beautiful woman? If you're anything like I was when I was learning how to be good with women, it is probably because of the following 2 areas:
Area #1: Confidence Problems
Confidence is essential for getting to the mastery level of success with women. Without it, you will struggle. Let me ask you...
When you see a beautiful woman that you want to approach and meet, how do you respond? Do you feel nervous and hesitate to take action? When you suddenly find yourself talking to a beautiful woman, how do you respond? Do you feel confident that she will like you? Or, do you doubt yourself?
I'll guess that your answers to those questions have already told you WHY you haven't met, dated and had sex with a beautiful woman lately. True? If you didn't answer the questions, go back and do it now...you might learn more about yourself in the process.
Area #2: Not Taking Enough Action
Where have you approached and met beautiful women in the last 2 months? If you're like most guys (and like I used to be), you WANT TO be with beautiful women, but you don't take action and actually approach them often enough.
The reality is, most guys don't take enough action and end up steering CLEAR of beautiful women because they feel unworthy. Ironically, the MOMENT you feel unworthy around a beautiful woman, she can SENSE it. It's like beautiful women have a sixth sense for picking up on a guy's lack of confidence...and it instantly kills their feelings of attraction.
Now that we've covered the 2 main areas that are probably keeping you from meeting a beautiful woman, let's talk about how to meet them...
Where do you actually SEE beautiful women that you'd like to meet? Shopping malls, in stores when you're out and about? If you're like most guys, you see beautiful women in loads of random situations (especially during the day)...but, you don't know what to DO to make something happen.
You see her. She catches your eye and maybe even looks at you for a second or two...then, you let another good thing slip right through your fingers.
Here's the thing...
I totally understand that it can be a little 'SCARY' to think about approaching beautiful women in random situations like when you're walking through a mall, or getting out of a car in a car park – but that's LIFE. All women are attracted to men who aren't afraid to go after what they want.
When you approach a BEAUTIFUL woman, she will be impressed with you for 2 reasons:
That you are going after what you want. Unlike other guys who are afraid to step up and be men.
That you actually have the balls to approach a BEAUTIFUL woman. Most guys are simply scared of these women.
Another irony to all of this is, when you begin approaching and meeting beautiful women in random places – it becomes SECOND NATURE. You don't break a sweat, you don't get nervous and you don't fear being rejected.
You just 'do your thing' and the next thing you know, you're in bed with a beautiful woman. It's natural, normal and the way life is supposed to be for you. I hope you don't cheat yourself out of being with beautiful women.
You deserve to be with them, be loved by them and enjoy sex and relationships with them...and the secrets to having it are only a few clicks away.
Talk soon,
Dan

| | |
| --- | --- |
| | Article by Dan Bacon. Founder and lead dating coach for TheModernMan.com |
| | Dan Bacon's Google profile. Photos and useful links. |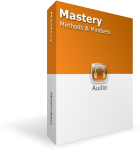 Take your confidence & success with women to the mastery level.
Format:
Instant download
Length:
7.5 hours of audio
Testimonials

"I actually didn't think it would be possible to listen to what you guys had to say and then have my confidence improve so much. I am not kidding you when I say my confidence has gone through the roof. I feel like a new man! I had been reading up on other sites trying to find somethign that would work for me, but the advice was just too basic. You guys have really pushed the limits with this. In my opinion this is 5-star quality information.
I know it works because my ex-girlfriend is now attracted to me again...and the women I've met in bars lately are texting me and acting real keen. Thanks a lot - I am so glad that I bought your product and I just thought I'd let others know what it has done for me..."
Hugh, Canada
"I listened to your program on Thursday day, then went out with a friend to a bar on Friday night and ended up kissing a girl within 30 minutes. I am still amazed at how much I've changed. Later than night, I got 2 other phone numbers, so I am going to date those girls as well...thanks a lot Modern Man - your stuff works!"
Richard, New York
"I was searching a long time to find the solution to my problems with women and I knew instantly that this stuff was it.
Since I started applying the techniques and mindsets you teach, I've gotten a lot more confidence with not just women but all the other areas of my life. I now I ask more for what I want and I usually get it. Like last night at the clubs, I started talking to a beautiful girl near the bar and 10 minutes later, I said "We should talk again, give me your number" and gave her my phone. She put the number in and said "Cool, call me - I'd like to catch up sometime"
The mindsets aspect is amazing, because I never understood positive thinking until you talked about negative dialogue going on in your head. Well, I've been able to improve on that a lot! It wasn't that I never heard it before to be positive, but the way you guys explained it in such great detail while still being easy to understand is a really a rare thing.
Thanks a lot guys - I'm now back in the game and kicking ass!"
D, CA, USA