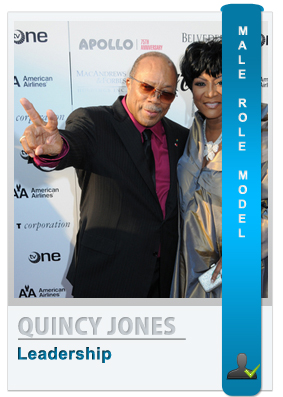 His Role Model Traits
Quincy Jones is more than just one of the legendary greats of the music industry. He is a pioneer, humanitarian, visionary, activist and more. His life and achievements can offer many important lessons that modern men can learn from.
Multi-Talented – As a musician, record and film producer, music arranger and composer, Quincy Jones has created a body of work in multiple genres of music that is unparalled in the industry.
Broke Racial Barriers – With a talent that could not be denied, Quincy (or Q as he's known by his friends) literally changed the face of the music business with a wide appeal to people of all races and nationalities even during the turbulent 1960s.
Leader – In the 1980s, wanting to raise funds to help starving Ethiopians, Jones enlisted some of the world's most famous musicians and singers to produce the recording "We Are the World" written by Michael Jackson and Lionel Richie.
As a way to deal with the varying personalities of the sometimes temperamental artists, he posted a sign on the recording studio entrance that read "Leave Your Ego at the Door." His point was well taken and the recording raised millions.
Leadership is an important alpha male quality that any guy can develop. You don't have to be "born an alpha male", rather you "make yourself into an alpha male" by adopting certain mindsets and approaches to life.
Humanitarian – Among his other philanthropic work, Jones created the "We Are the Future" project aimed at giving children in poor and conflict-ridden areas of the world resources and hope for a better future.
His Story
Born into a lower middle class family in Chicago with a mother who suffered from a mental illness, Quincy Jones (known as Q by those close to him) sought refuge from his home life by studying music and learning how to play the trumpet.
His family moved to Seattle when he was ten and it was then that he began his lifelong friendship with another boy who would also become a music legend, Ray Charles. After he finished high school, Quincy was offered a music scholarship to college but instead chose to travel as a trumpeter for jazz great Lionel Hampton.
While touring with Hampton's band, he discovered a gift for arranging music. This led to more opportunities for him to work with other renowned artists of the time such Count Basie, drummer Gene Krupa, Duke Ellington and his long-time friend, Ray Charles.
Q traveled the world playing with various groups and eventually formed his own band, the Jones Boys. Knowing that they were going to be on the road much of the time and wanting his musicians to maintain a quality family life, Quincy arranged for the musicians to bring along their families as they traveled around the United States, Europe and other parts of the world.
When you're a single guy, it's great if you want a job that will have you constantly traveling, but once you're in a steady relationship or have a family, it's important to recognize that your presence is more important to those who love you than is your paycheck.
When you decide to "settle down" you may find that your "traveling man" days are either going to be limited or that you have to make some concessions to be home more often, bring your family along when possible or connect with them more consistently (through the phone or internet chats) to ensure that your relationships last and are more meaningful.
Yes, there's the old saying "absence makes the heart grow fonder," but it's also true that "out of sight is out of mind."
Realizing that he lacked the necessary training to become as great a musician, Q went to Paris to study music composition and to work with other music greats as his mentors. While having a natural talent or ability is a wonderful asset, having a good educational foundation is often essential for a man to go from being merely gifted at doing something to being great.
Although Q was constantly on the road and playing to enthusiastic audiences with his band, he also discovered that his paycheck didn't match their popularity. In fact, the band wasn't making ends meet.
He was quoted as saying in "Musician" magazine, "We had the best jazz band in the planet and yet we were literally starving. That's when I discovered that there was music, and there was the music business. If I were to survive, I would have to learn the difference between the two."
During the 1960s when there was a great lack of racial equality,Jones set about to improve opportunities for himself and ultimately for other black musicians.
Because of his talent and reputation, he was able to break into the predominately white world of record producing and started to work at Mercury Records. There he proved himself and eventually became the first African-American promoted to vice president of that company.
He also used his talent to help him break into another music arena where blacks had not previously had a significant influence – composing film scores. Producer Sidney Lumet hired Jones to write the music for his film "The Pawnbroker." The power of his film score broke down barriers and since then he's composed scores for more than 30 major movies.
While working on the movie "The Wiz," Michael Jackson (who appeared as the Scarecrow in the movie) asked Quincy for music producer recommendations for his new album. Q suggested a number of producers but Jackson so enjoyed the work that Jones was doing on "The Wiz," he asked him to produce the album.
That recording, "Off the Wall," sold more than 20 million albums and made Quincy Jones the most powerful record producer in the industry. Their next collaboration on Jackson's "Thriller," which remains one of the best-selling albums of all time, reinforced Quincy's reputation. Soon musicians from around the world were begging Jones to produce their music for them.
This might seem like a lucky break that he got to work with the talented Michael Jackson, but when you are good at what you do, surround yourself with successful people and are persistent in your pursuit to become successful, the right opportunities will tend to pop up for you.
As Calvin Coolidge is famously quoted as saying, "Nothing in the world can take the place of persistence. Talent will not; nothing is more common than unsuccessful men with talent. Genius will not; unrewarded genius is almost a proverb. Education will not; the world is full of educated derelicts…"
In Quincy's case, he not only used his talent for music, but he used his intelligence to seize upon an opportunity that many others could have just as easily passed by.
Jones' influence among musicians and recording executives was never more evident than when he was able to get dozens of the biggest names in the music industry to record "We Are the World" as a fundraiser for starving Ethiopians.
He used his considerable influence to get their record companies to sign waivers that allowed their artists to create this cross-over sensation.
With a simple sign he posted on the recording studio's entrance that read, "Leave Your Ego at the Door," in one unprecedented evening he worked with singing sensations and musicians such as Ray Charles, Bob Dylan, Michael Jackson (who co-wrote the song with Lionel Richie), Waylon Jennings, Billy Joel, Stevie Wonder, Cyndi Lauper, Diana Ross, Paul Simon, Whitney Houston, and many more to create a recording-breaking hit that raised millions for Africa's poor.
After the tsunami in Haiti in 2010, the song was re-written and re-recorded with another group of highly-regarded singers and musicians in another historical recording feat that also raised millions for the tsunami victims.
But his humanitarian efforts aren't limited to disasters. Q has worked with Bono and U2 on many humanitarian projects. He is also the founder of the "Quincy Jones Listen Up Foundation" that connects poor young people with technology, education, music and culture and even has developed an intercultural exchange program between poor youths from Los Angeles and their counterparts in South Africa.
Jones and his foundations have worked with the World Bank, the United Nations, and major corporate sponsors to create programs that will provide help and hope for underprivileged young people around the world. Their first fundraiser was a concert in Rome, Italy before an audience of more than a half million people.
Quincy Jones has had to overcome many hurdles to become the legend he still is today. Many men have talent and passion in their field but how many men are willing to break down doors to achieve their goals and create a better life for themselves and others as Quincy Jones has done? Imagine where your talent, passion and compassion could take you.
His Achievements
Received 79 Grammy nomination and won 27 Grammy awards.
His arrangement of "Fly Me to the Moon" recorded by Frank Sinatra was the first music played for NASA's first lunar landing mission.
Has received numerous honorary degrees from multiple universities and has had scholarships and schools named in his honor.
Named after the former U.S. President Bill Clinton, Jones has received the Clinton Global Citizen award for Leadership in Philanthropy.
Received the Kennedy Center Honors award which recognized his life-long accomplishments and talents and has only been given to a handful of the United States' most prestigious artists.
Was awarded the National Medal of the Arts by U.S. President Barack Obama.
Want to Know the SECRET to Success With Women?
Watch this hidden video where Dan exposes his BIGGEST secret to success with women, which allows you to easily get laid or get a girlfriend.
This video is only available here and you can watch it for free right now.
Yes, I want free tips via email from Dan Bacon. I can unsubscribe at anytime with a click.
Privacy policy
.