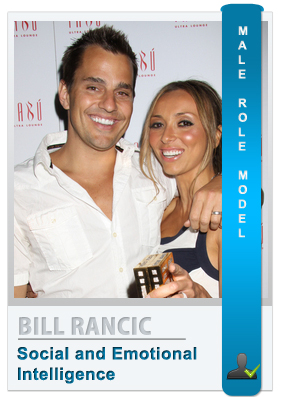 His Role Model Traits
If I was only going to recommend one male role model for modern men, it would definitely be Bill Rancic.
Rancic is the well-known winner of the first season of "The Apprentice", who went on to marry a beautiful and famous TV personality, Giuliana DePandi. Yet, that's not why he's such a great role model for men.
Bill exhibits a number of admirable qualities such as leadership, masculinity, determination and much more that modern men can aspire to. These are traits that are not only naturally attractive to women, but also traits that cause men to respect and admire him.
Masculinity – Although Bill is married to a strong, influential woman in the entertainment industry – Giuliana (DePandi) Rancic – it's easy to see when watching their reality TV show "Giuliana and Bill" that Bill still wears the pants in their relationship.
Although they compromise well, when a difficult decision needs to be made, Bill is generally the final decision maker.
Leadership – Whether he was the designated Project Manager or if he was simply assigned tasks as part of a team, his leadership skills were quickly apparent in the first season of "The Apprentice." Although his competitors were trying to win the title, they often turned to Bill for advice about how to manage situations or sought his help to complete complex tasks.
Confidence – When Guiliana DePandi of E! television was assigned to interview Bill, you could immediately see the sexual sparks flying between them. His cheeky humor and flirting made her drop her guard and relax. Guiliana suddenly became flustered (in a good way) and briefly lost her professional demeanor as he turned on the charm and quickly won her over.
Supportive Husband – Bill and his wife desperately wanted to start a family but soon discovered that their best chance for her to get pregnant was for Giuliana to go through the physically and emotionally difficult In Vitro Fertilization (IVF) process.
As much as Bill wanted to be a father, he told Guiliana that he wouldn't push her. He said that she should make the final decision as to whether or not she was willing to attempt to get pregnant through IVF and he would support any choice she made.
They tried again and again, but were unsuccessful. Still, Bill has been supportive and cares about the health of her body and how it can become damaged by further IVF attempts.
Charitable – The proceeds from his book, "Beyond the Lemonade Stand," go to various charities and he works closely with numerous charities such as Gradient Gives Back, which helps economically-challenged families get back on their feet. Among his other charitable efforts, he actively serves on the board of the Mercy Home for Boys and Girls.
His Story
Can you remember the names of any of the other people who have won "The Apprentice"? Most people can't, but almost everyone who has seen the show remembers Bill Rancic and it's not simply because he was the first winner.
It's because Bill took that initial opportunity to work for Donald Trump and went on to use the experience to create further opportunities for himself. He has milked the opportunity for all it is worth, rather than stopping at winning the title of the show.
Bill Rancic's entrepreneurial spirit began early in his life. Coming from a humble, middle-class family (his parents were educators), he needed a way to earn money while attending college, so he started a boat detailing business.
Then, while still in his twenties and with a love of a good cigar, he started an internet-based business, Cigars Around the World, in his 400-square foot apartment that went onto become a multi-million dollar business enterprise.
Almost every successful entrepreneur started by discovering his personal passion and building on it, or finding a niche that needed to be filled and then filling it.
Bill's early passion was great cigars and he recognized that there were others who also enjoyed the occasional quality smoke but were limited in their choices from their local cigarette shop.
So, he set about researching supplier options and started his online cigar business. Why not take a day to decide on what your true passion is or work out what niche you can fill and test your own entrepreneurial spirit?
When Bill applied for the first season of "The Apprentice," because of his already proven success in the cigar business, he beat out over 250,000 other hopefuls.
Not only did he participate as one of 16 competitors on the new show, but he continually persevered and moved ahead as others were fired until he was one of only two finalists standing to ultimately hear the legendary Donald Trump say, "You're hired!"
Within three minutes of hearing he'd won the title as "The Apprentice" and earned a year-long contract to work on one of Trump's projects, Bill quickly decided to take on the task of overseeing the building of a new Trump Tower in his hometown of Chicago rather than helping to build a new Trump golf course in another state.
He felt the Tower project would be a better learning experience and would help him with his personal goal to be another real estate development mogul. This ability to make quick decisions showed yet another aspect of Bill's leadership qualities and business insights.
Although his contract as "The Apprentice" was due to end a year later and Bill initially planned to go out and start his own company, he decided to stay on to not only further his opportunity to learn under Trump's tutelage but to see the Trump Tower project completed and become one of the most impressive and highly-sought after addresses in the Chicago skyline.
"The Donald" soon realized what a tremendous asset Bill was to the Trump Organization and gave him many more responsibilities than was originally planned. While most men will never have a mentor with a track record as outstanding as Donald Trump's, work toward finding a successful man or men who shares your same business or personal interests to mentor you.
If you take that relationship seriously and sincerely show a genuine interest in their teachings, you can avoid the mistakes that most people make and glean priceless ideas from the mentors to possibly enjoy even greater success than they achieved.
Bill Rancic continues to work on projects with and/or for Trump and often serves as a guest judge (and Mr. Trump's "eyes and ears") on other seasons of "The Apprentice" where his input about the competitors' abilities helps Trump to decide who should stay and who should go.
Since leaving the Trump Organization as a full-time employee, Bill has gone on to build his own highly lucrative real estate development (commercial and residential) company. He also now travels the world as a successful and well-paid motivational speaker for groups and major corporations.
He met and married Guiliana (DePandi) Rancic, a well-known TV host and producer on the E! television and Style networks. Together they've written a book "I Do, Now What?: Secrets, Stories and Advice from a Madly-in-Love Couple" and Bill has authored "Beyond the Lemonade Stand" and "You're Hired: How to Succeed in Business and Life from the Winner of The Apprentice."
Along with Guiliana, he has starred on their highly successful reality series "Guiliana and Bill" which focused on the trials and triumphs of married life.
They have also started a successful television production company, You and I Productions, which produces scripted and reality shows on several networks. Bill makes frequent TV appearances and hosts and produces a popular Saturday morning business-based TV show on A&E called "We Mean Business."
His Achievements
1. Bill's internet-based company, Cigars Around the World, has grown into a multi-million dollar enterprise showing his early aptitude for business and his ability to find a niche that needed to be met.
He acted on his passion in an uncompetitive niche and saw it through to tremendous success.
2. Is a highly paid and much-sought-after motivational speaker brought in by groups and Fortune 500 companies to inspire and inform their members or employees.
3. Co-wrote the book (with his wife) "I Do, Now What?: Secrets, Stories and Advice from a Madly-in-Love Couple" to frankly and humorously discuss what it's like when you're a newlywed (or start living together) and how to deal with all of the big and small decisions in life as a couple.
4. Wrote two additional books "Beyond the Lemonade Stand" and "You're Hired: How to Succeed in Business and Life from the Winner of The Apprentice."
The first book helps parents prepare their children for financial success by starting them to learn about money and business at an early age.
The second book deals with the hard-earned lessons about life and business that Bill learned for himself and insights shared by people in his life whose opinion he trusts.
5. Successful in real estate even during down-turns in the market. He is savvy in knowing what properties to buy, when to buy them and then how to turn them into a highly profitable venture when he sells them.
For instance, he and his wife bought an unfinished 12,000 square foot mansion for $1.56 million. Three months after they remodeled it and moved in, they sold it for $4.6 million! (Not a bad profit for less than a year's work!)
Want to Know the SECRET to Success With Women?
Watch this hidden video where Dan exposes his BIGGEST secret to success with women, which allows you to easily get laid or get a girlfriend.
This video is only available here and you can watch it for free right now.
Yes, I want free tips via email from Dan Bacon. I can unsubscribe at anytime with a click.
Privacy policy
.