His Role Model Traits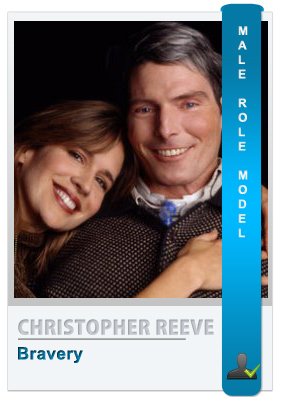 The late Christopher Reeve played Superman in his "reel" life, but more importantly he was a super man in his "real" life.
He was a devoted father and husband, he was well educated, philanthropic, dedicated to his work and continually displayed positive role model qualities before and especially after the accident that left him a quadriplegic.
Socially Conscious – Even before his paralyzing accident which led him to work toward raising funds to find a cure for spinal cord injuries, Christopher Reeve was often willing to help various charities.
He served as a track and field coach for the Special Olympics, spoke before the United Nations on behalf of Amnesty International and appeared at numerous fundraisers for (Actors) "Equity Fights AIDS" as well as using his celebrity to help other causes he believed in.
Strong Work Ethic – Chris (as his friends and family called him) caught the acting bug early and began working on the stage at the age of nine. Even after his debilitating injury caused him to be paralyzed at the age of 43, he continued to work on writing, acting, producing and directing.
Perseverance – Although he briefly thought about ending his life after discovering the severity of his condition after the accident, with his family's encouragement he quickly resolved to do everything he could to improve his own condition.
He made enormous strides that not only impressed the medical community, but allowed him to be able to continue in his existing career and work toward finding ways to help others who suffered from spinal cord injuries.
Determined – When he was cast as Superman, he had the prerequisite height and blue eyes to play the iconic legend, but he lacked the powerful physique.
Instead of wearing padding under his superhero costume as suggested by the studio, he trained vigorously for months with British weight lifting champion David Prowse to build up the necessary muscles to naturally fill out the Superman costume.
(Although James Earl Jones provided the voice of Darth Vader in the "Star Wars" epics, it was Prowse who actually wore the costume.) Determination is a key quality of an effective alpha male.
His Story
Most of us became aware of Christopher Reeve when he was cast as the iconic comic book hero Superman in the 1970s film, but Chris (as he was known by his family and friends) had been regularly working as an actor since he was a child.
Chris was raised in an upper middle class family, but he never let his family's affluence keep him from getting out there and earning his own paycheck. He used his acting talent to land small roles in amateur productions and also worked backstage doing anything necessary to help earn his keep.
His powerful presence on the stage eventually brought him to the attention of agents, producers and legendary actors who helped him along his acting path.
As his career progressed, he was offered a number of roles but felt that he still had much to learn about acting. He went to Europe to study and perform the classics and later attended Cornell University and was eventually admitted to the prestigious Juilliard School of the Arts where he met and became lifelong friends with Robin Williams.
His handsome looks made him a natural for soap operas and he quickly landed a role on a popular daytime drama.
Katherine Hepburn was so impressed by his talent when he auditioned for the role of her grandson in the Broadway production of "A Matter of Gravity" that she used her considerable influence to get the producers of his daytime drama to schedule his TV appearances so that he could also perform in the play to impressive reviews.
Chris' star was rising and he eventually went and won the role that would make him a household name – "Superman."
While shooting "Superman" in England he developed a relationship with British actress Gae Exton. Through mutual agreement they chose not to marry, but together they had a son and a daughter and Chris was most proud of what he considered to be his greatest role – devoted father.
After filming, and with Chris' career on the rise, they moved back to the United States. While Chris' career was going well, his relationship with Exton amicably came to an end and she moved back to England with their children.
Chris was given several long-term opportunities to work in Los Angeles but he turned them down and chose to stay on the East Coast so that he could hop aboard the Concord and see his children frequently.
Not all long-term relationships last forever, but with maturity it is essential, especially when there are children involved, to strive to maintain a friendly relationship with your ex. If you take on the responsibility of fathering a child, it is essential to remember that your first obligation is now to your children.
That's why making the decision to have children or being sexually responsible to avoid unexpected pregnancies is such an important choice as a man in the modern world.
Months after his split with Exton and while working in Willamstown, Massachusetts he became attracted to a singer, Dana Morosini. Within months they were married and soon after Dana (Morosini) Reeve gave birth to their son.
Always a sports enthusiast who excelled in water sports, track and field, hockey, tennis, baseball, mountain climbing, parasailing, cycling and more, and even though he was highly allergic to horses, it wasn't surprising when Chris chose to take up equestrian riding.
As he did with everything else, he threw himself into the sport and quickly became an accomplished rider who often participated in equestrian events. It was that love of horseback riding that eventually changed his life forever.
On May 27, 1995, while participating in a charity steeplechase event, Chris' horse stopped short at one of the jumps and with his hands tangled in the horse's bridle, Chris went flying over the rail and landed on his head.
While his helmet prevented brain injury, the weight of his body crashing down destroyed his first and second vertebrae causing his skull to become detached from his spine. The result was that he became paralyzed from the neck down.
Upon hearing the news and fearing the burden he would become to his wife and family, he said to Dana, "Maybe we should let me go." Upon which she told him, "You're still you and I love you." Her words changed his thoughts immediately and he never considered suicide again. At that moment he began the fight of his life.
Finding the right woman to marry and saying vows like "in sickness and in health" and "for better or for worse" are not just words. They are promises that need to be kept. It's obvious that Chris chose well when he married Dana because she stood by him throughout his ordeal.
Over the next few years, Chris endured numerous painful surgeries to reattach his head and spinal cord and rehabilitation to keep him as physically healthy as possible. He was forced to use a ventilator to breathe which made communicating especially difficult.
As an actor who was used to having vocal command, Chris found this unacceptable and astounded the medical community when his determination and hard work through gruesome therapy was successful and he could be off his ventilator for periods as long as 30 minutes at a time.
Whether you have a physical or learning disability or an emotional hurdle you have to deal with, like Chris, you should always strive to become the best man you can be by using determination and working hard to achieve your goals.
With incredible empathy for the other patients he met in rehab he decided to use his celebrity and media coverage to help raise awareness and funds to research spinal cord injuries. He made physically difficult public appearances, worked with scientists around the world, encouraged the government to fund research and fought to have spinal injury research become a medical priority.
When he was physically strong enough, Chris returned to his first love – the movie business. He made his directorial debut in the award-winning HBO film "In the Gloaming" and produced and starred in the remake of the Jimmy Stewart classic "Rear Window."
His autobiography, "Still Me," detailing his life, accident and recovery spent several months on top of the "New York Times" best seller list and his second inspirational book, "Nothing is Impossible" was also well received.
As hard as he fought, Chris endured numerous setbacks in his recovery and it was ultimately an infection and his reaction to an antibiotic that ended his life on October 10, 2004 at age 52.
Throughout his too-short life, Chris proved that he was a "super man" in the best sense of the term. He is definitely a man that any modern man can look up to for inspiration and as a positive role model.
His Achievements
Named the Chairman of the American Paralysis Association and Vice Chairman of the National Organization on Disability.
Co-founded the Reeve-Irvine Research Center which is now one of the leading spinal cord research centers in the world.
Formed the Christopher and Dana Reeve Foundation with this wife to receive grants and to raise funds for spinal cord injury research. To date, the Foundation has raised over $70 million.
Urged California voters to vote "Yes" on Proposition 71 which would establish the California Institute for Regenerative Medicine. The bill allotted $3 billion of state funds for stem cell research which is an approach that scientists believe has the best potential to help or cure those with spinal cord injuries. The bill was approved shortly after Chris' death.
Received five Emmy awards including one for Chris as "Outstanding Director for a Miniseries or Special" for his film "In the Gloaming."
Won a Screen Actors Guild Best Actor Award for his role in "Rear Window."
Flew solo across the Atlantic twice (before his accident) and when he was filming the movie "The Aviator," he did all of his own flying stunts.
Want to Know the SECRET to Success With Women?
Watch this hidden video where Dan exposes his BIGGEST secret to success with women, which allows you to easily get laid or get a girlfriend.
This video is only available here and you can watch it for free right now.
Yes, I want free tips via email from Dan Bacon. I can unsubscribe at anytime with a click.
Privacy policy
.