His Role Model Traits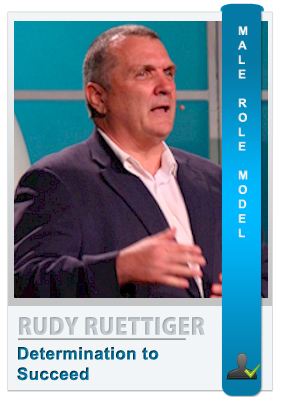 Daniel "Rudy" Ruettiger, the subject of the popular movie, "Rudy" starring Sean Astin, offers modern men lessons about the 4 C's he lives by – commitment, character, courage and contribution.
Commitment – Despite being told time and again that he could never be accepted as a Notre Dame student due to his poor grades (much less become a member of their football team because of his small size), Rudy never let anyone or anything stop him from achieving his dream.
In the end he succeeded and showed the world and other men that no matter what limitations others place on you, your life is in your hands and you can achieve what you dream of.
Character – Rudy's dreams didn't end on the football field at Notre Dame. He believed that his story could inspire others so he worked for a decade to learn what he needed to know about the movie business and kept knocking on doors and telling his story until Hollywood made a movie about his life.
Courage – Rudy Ruettiger had been literally knocked down hundreds of times on the football field leaving him bloodied and bruised. Yet, each time he was knocked down – often by much larger players – he kept getting up and fighting back. This is a clear example that you don't need to be a big man "physically" to be an alpha male.
Contribution – Rudy continues to help others achieve their goals through his speeches, training seminars, interviews and scholarship programs.
[tab:His story]
Most men who have seen the movie "Rudy" starring Sean Astin think that Daniel "Rudy" Ruettiger is a great role model because of the story that was told about him in the film…but they would only be partially correct.
Rudy Ruettiger has devoted his life to being the best man he can be and that pursuit didn't stop after his teammates carried him off the field after his Notre Dame victory.
The film "Rudy" depicts the life of Daniel "Rudy" Ruettiger and how he grew up the third child of 14 in a lower middle-income family.
It shows that Rudy was a below-average student who left high school, served in the military and then went to work in a blue collar job. However, when an industrial accident killed his best friend, Rudy began to re-evaluate his life and decided to do everything he could to finally achieve his life's goals.
The thing that Rudy wanted most was to attend the University of Notre Dame and play on their football team. However, his academic history wouldn't qualify him to meet Notre Dame's high scholastic standards. In fact, he was barely able to get into a local junior college.
Despite almost everyone trying to dissuade him from his pursuit; he continued to try to get admitted into Notre Dame.
His poor grades weren't because Rudy wasn't smart; it was because he had a learning disability that was only discovered after he was tested in junior college. Once he understood the problem, Rudy worked with tutors and professionals to rise above his dyslexia (a manageable, but currently incurable learning disability) to make himself a more viable candidate for the prestigious university.
With great determination, he improved his grades, added community service to his resume and continued to apply to Notre Dame until he was finally accepted as a student in his junior year.
Whether your problems in life have been of your own making or were circumstances that were out of your control, you can't change your past. But with confidence, commitment, character, courage and contribution, you can change what your future will be if you want it badly enough and if you are willing to work hard enough to make those changes. Look to Rudy as a classic example of that.
Being accepted to Notre Dame as a student was only part of Rudy's dream. He and his family were lifelong fans of the Notre Dame football team and it was Rudy's greatest desire to play for the "Fighting Irish." But at 5'7 and 185 lbs., Rudy was tiny in comparison to the other football players. Still, when they had open tryouts, Rudy gave it his best effort to show that he could be an asset to the team.
His determination, persistence and "heart" eventually won over the coaches and they agreed to let Rudy be a part of the team's practice squad. In short, he was often a human tackle dummy that was hit again and again leaving him bruised and battered, but he never gave up. He felt it was his contribution on the practice team that would let the varsity players do their best in the real games.
Despite the depiction in the movie where Head Coach Dan Devine had to be dramatically persuaded by other team members to let Rudy suit up, Coach Devine says he always had planned to let Rudy run onto the field in the last game, if only to stand on the sidelines.
He was then encouraged by one of the other coaches to let Rudy actually play in the game (the only way he could be acknowledged as an official member of the Notre Dame team). And when Rudy was given the opportunity to play, he knew his dream was coming true.
In the final 27 seconds of the game, Rudy mustered all of his strength and determination and tackled the Georgia Tech quarterback and helped his team to victory.
When he made the tackle and the team won and he was carried off the field amid cheers of "Rudy! Rudy!" his former teammate (who isn't depicted in the film), legendary quarterback Joe Montana, said in an interview years later, "Oh, the guys just went crazy on the sideline. I mean, it was like we had won the national championship almost. I mean, that's how…how excited everybody was for him."
But after being carried off the field, Rudy realized that with these dreams fulfilled, he needed to find his life's next dream. And that dream was to have his story told on film.
Too many men only have one or two short term goals for their life, which end up leaving them confused, lost and depressed when they reach them.
Whether it's to attract a girl you like or to be hired for a particular job, once they achieve what they set out to do, they stop dreaming and they give up on becoming and achieving even more in life.
If you want your life to have true purpose and happiness, you must always strive to do better and achieve more. You should always endeavor to be the best man you can be for yourself, your family, your woman and your community and never settle for anything less.
With no experience in the movie business, but highly determined to see his story on the big screen, he used the success of movies like "Rocky" and "The Field of Dreams" as inspiration to propel him forward.
Rudy went to Los Angeles, hung out where he heard film producers were, read the trade papers, networked and told his story to virtually anyone who would listen. For the most part, while people liked his story, they never would commit to making a film about it.
Each time he was turned down, it made him stronger and more focused and after ten years of being rejected, he was finally able to convince a producer to make a film about his accomplishments in life. It was that same dedication and commitment to see his dream come true of getting into Notre Dame and playing for the "Fighting Irish" that helped him to eventually succeed once again.
What are your dreams? How much determination do you have to see them come true? What are you willing to do to achieve your goal? How soon will you give up if you don't see success quickly? If you are a man like Rudy, you will believe in yourself and know that you will eventually succeed, letting nothing and no one stop you from getting to where you want to be.
With the success of the film "Rudy," which is as much a story about determination and inspiration as it is about sports, the real Rudy received much media attention and public interest.
Rudy turned those opportunities into a book, a career as a well-paid motivational speaker, and he also started a foundation and scholarship program to assist other worthwhile individuals to achieve their dreams. Today, Rudy continues to inspire people everywhere he goes.
Here's what he had to say about dreams and the excuses many men give about why they don't achieve their goals.
"What we're really talking about here is commitment. Until you make a commitment to your dream, it's not really a dream – it's just another fantasy full of excuses. Fantasies don't come true because they're not real; we're not committed to them. When we make commitments, we eliminate excuses and they become dreams and dreams are definitely real."
His Achievements
Founded the Rudy Foundation with his wife to help other young "Rudys" to achieve their goals.
Is the author of "Rudy's Lessons for Young Champions." A portion of the sale of his book goes to the Rudy Foundation and the Rebecca Wolfe Atkinson Fund for Diabetes.
Acted as technical advisor on the film "Rudy" and appears as an extra in a scene at the stadium behind Ned Beatty who was cast as Rudy's father.
Was invited to the White House to watch "Rudy" with President Clinton, Colin Powell and Joe Montana.
Travels the United States as a successful motivational speaker and has often shared the stage with former President George Bush, Super Bowl champion Joe Montana, inspirational guru Zig Zigler, the late actor Christopher Reeve and other notable men.
Has been honored by the White House and President George Bush, received the Distinguished American Award, been awarded with proclamations from numerous U.S. cities and has been inducted into the National Speakers Hall of Fame.
Want to Know the SECRET to Success With Women?
Watch this hidden video where Dan exposes his BIGGEST secret to success with women, which allows you to easily get laid or get a girlfriend.
This video is only available here and you can watch it for free right now.
Yes, I want free tips via email from Dan Bacon. I can unsubscribe at anytime with a click.
Privacy policy
.