Role Model Traits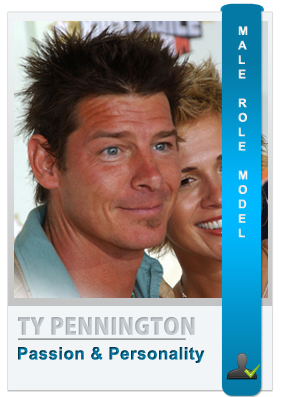 More than being a charismatic carpenter and designer, Ty Pennington has turned his talents and personal challenges into opportunities to improve the lives of many. Modern men can learn as much about building their own character from Ty as they can learn about building a house.

Passionate and Personable – Ty Pennington's creativity and outgoing personality has led him to fame and fortune, while he simultaneously used his talents and passion to positively affect the lives of others.
Courageous – Dealing with the challenge of being diagnosed with Attention Deficit/Hyperactivity Disorder (ADHD), Ty has taken this potentially negatively life-altering disability and turned it into a positive to help himself and others like him.
Dedicated – While shooting his hit series, "Extreme Makeover: Home Edition," Ty was struck with appendicitis. Recovering from surgery in his hospital bed, he continued to lead his team to complete the rebuilding of two homes.
Accountable – When Ty was arrested for a drink driving incident, he admitted his wrong-doing, apologized, took his punishment like a man and now encourages others not to commit the same mistake he made.
Multi-talented – In addition to his carpentry work, Ty is a popular TV host, spokesman, actor, model, author, entrepreneur and humanitarian.
Goes after what he wants – Have you ever heard a woman say, "I like a man who knows what he wants and isn't afraid to get it?" It's one of the many traits that women seek in men because men who lack confidence in themselves often find it hard to survive, thrive and prosper compared to men who are confident.
Women want to see that you are confident when you first approach them to introduce yourself, confident on a date, confident in a relationship and confident in life. It allows a woman to relax and trust that everything will be okay now that she has met you.
His Story
Born and raised in Atlanta and in nearby Marietta, Georgia, Ty Pennington is a self-taught carpenter and self-described "jack of all trades." His first big construction project as a young boy was to design and build a three-story treehouse in his backyard.
Since his father didn't own any of the necessary tools to build the treehouse, Ty gave his friends his comic books in exchange for them allowing him to use their fathers' tools to build the treehouse. His resourceful spirit showed itself early and in a unique way.
When Ty was 17, he was diagnosed with ADHD (Attention Deficit/Hyperactivity Disorder) that could have negatively affected his education, career and life.
Instead, with his family, he fought hard to find treatment that would allow him to concentrate and continue to build his skills and reach his goals. Today he works with foundations, pharmaceutical companies and medical experts that are looking for more ways to help others who are stuck with the same disability.
As an art student in college, Ty realized that he could use his carpentry skills to earn extra money. He recognized that carpentry allowed him to use his creativity, which would in turn enhance his artistic training.
Everyone has a natural ability or one that can be further enhanced through education and a passion for learning. Think about what natural skills you possess that you can use to either supplement your earnings or that you can capitalize on to create your career. Ask yourself, "What am I good at? What could I be the best at, or one of the best at?"
Most people first became aware of Ty Pennington when he appeared as one of the carpenters on the popular TLC TV series "Trading Spaces." It was the perfect match for Ty's personality and imaginative skills.
Outgoing and creative, Ty was often called upon to implement the visions of the show's interior designers on a very limited budget. While that might be a disadvantage to most craftsmen, Ty looked at it as an opportunity to make use of his inventiveness.
In one episode he used a large, metal salad bowl to make a bathroom sink. Ty, who admits that he's not the best carpenter in the world (although he's also stated that he has above average skills) found that the challenges he was presented made him a better craftsmen because it forced him to "think outside the box" on a regular basis.
When life throws you a curveball you have two choices. You can look at it as yet another problem you have to deal with or an opportunity to get creative and find a solution that will allow you to succeed anyway. Ty's ingenuity and his often whacky practical jokes made him an audience favorite and helped him to achieve other opportunities.
When ABC was developing the idea for a show about providing a deserving family with a totally renovated or completely rebuilt home that would be completed in a week, they pegged Ty Pennington to not only host the show and lead the eight-member design team but to also supervise the dozens of other craftsmen needed to complete the task.
"Extreme Makeover: Home Edition" was an instant hit and spawned copycat shows around the Western world.
Ty and his team quickly realized that they were doing more than rebuilding a home; they were rebuilding people's lives. It was a responsibility that Ty and his crew didn't take lightly. He has often said that it has made him want to accomplish even more and be able to help more people.
He's also said he's always impressed not only by how willing so many companies are willing to donate their products or services to the needy family, but how each community they visit embraces the show's cast and quickly steps forward to help one of their deserving neighbors.
The show often starts a wave of giving in the communities it visits, bringing companies and people together to seek out others in their community that need their help long after the cameras and cast have moved on.
You don't need a TV show to find neighbors or causes who can benefit from your help. Deserving neighbors or charities are often featured on the evening news, on community websites or in your local paper.
Your time, your physical presence and your willingness to help is often much more appreciated and needed than a monetary donation. So, even if you can't afford to offer a person or a charity some money, use your natural talents and time to help others in person. You will both be rewarded by your actions.
Ty's success with "Extreme Makeover: Home Edition" in the States led him to be asked to host "Ty's Great British Adventure" in the U.K. He has since written two books, created his own magazine, is a highly-paid spokesman for several major corporations, has his own furniture design company and designs home furnishings for several other companies.
When Ty was 12 and built that first treehouse, he probably never imagined how far those skills could take him, but he always dreamed big and was willing to work as hard as was needed to make a great life for himself and others. Where can your dreams and skills take you?
Achievements
Author of two books – "Ty's Tricks: Home Repair Secrets Plus Cheap and Easy Projects to Transform Any Room" and "Good Design Can Change Your Life: Beautiful Rooms, Inspiring Stories."
Writes and publishes a quarterly publication, "Ty Pennington at Home" which not only offers home improvement tips, advice on new home products, how-to articles written by him and readers, but also showcases a number of charities that Ty is involved with.
Has used his charisma and celebrity to become a popular spokesperson for Sears, Bayer Aspirin, and several other major companies.
Designs a home décor line for Sears, flooring for Lumber Liquidators and furniture for the Howard Miller Company.
Designs home décor products for his company, Furniture Unlimited, which has locations in Atlanta and Los Angeles.
Started a scholarship program for adults diagnosed with ADHD.
Travels the world reaching out to people who also suffer from ADHD giving them hope and help.
Helped "Extreme Makeover: Home Edition" win two Emmy's and two People's Choice awards.
Maintains a great, long-term relationship with his girlfriend, Drea Brock despite being on the road often to work on a project (they film the building of two homes simultaneously for "Extreme Makeover: Home Edition") or doing charitable work.
Want to Know the SECRET to Success With Women?
Watch this hidden video where Dan exposes his BIGGEST secret to success with women, which allows you to easily get laid or get a girlfriend.
This video is only available here and you can watch it for free right now.
Yes, I want free tips via email from Dan Bacon. I can unsubscribe at anytime with a click.
Privacy policy
.