Role Model Traits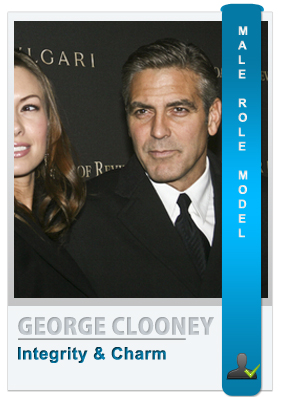 George Clooney has always felt that his fame has given him an opportunity to use his good fortune to help others.
There are many lessons that a modern man can learn from George about loyalty honesty, compassion and how a positive attitude can help you achieve success and more.
Clooney is also famous for being a charming, flirtatious man. He is now married to Amal Alamuddin (now Amal Clooney) and he hasn't lost his flirtatious charm whenever being interviewed by women.
I reference him as an example in this video about flirting…
Loyal – While George has certainly made a number of close friends with other big name celebrities during his career, the men he still considers his best friends are the guys he hung out with when he first moved to Los Angeles and was starting out as a struggling actor.
Honest – He has repeatedly stated and is completely open with the women he dates that he has no intention of ever marrying again (he had a short-lived marriage to actress Talia Balsam) nor does he wish to father children.
Compassionate – Whenever there is a major disaster or massive civil unrest (Darfur, Hurricane Katrina, Haiti, tsunamis, etc.), you will usually find George front and center to lead or participate in fundraising or global humanitarian relief efforts.
Humble – While much is often made of his good looks and effortless, sophisticated charm, George will always deflect any such compliments with self-effacing humor. While he takes his work seriously, he never takes himself seriously.
Dedicated – While shooting "Syriana," he suffered a severe injury to his head, neck and back. Despite his incredible pain, as soon as he was released from the hospital, he returned to the set to complete the film before going through two painful surgeries and a lengthy recovery to repair the damage to his body.
Charming – When George Clooney looks at a woman while talking to her, it is obvious to see that he loves women for what they are. He isn't frustrated by women and all their complexity. He adores them and finds amusement in flirting with them.
It is from this mindset that he is able to "put on the charm" so easily when interacting with women. It seems effortless to him because it is. Compare that to a man who is frustrated by women and can't seem to understand them. Such a man will always be trying to change women into something more logical and "workable." George accepts women for what they are and they love him for that.
His story
The son of a former beauty queen and a respected journalist in Kentucky, George Clooney's life as a youngster was remarkably normal.
His father, a strong proponent for education, would quiz George and his brother about history and current events and even went so far as to have them research and write book reports about the topics he quizzed them on. George believes it was the efforts of his father to make his sons aware of the greater world that has led him to be so socially conscious.
While in high school, George contracted Bells Palsy, a nerve disorder that paralyzed half of his face for months. To deflect the often cruel remarks of his classmates over his deformity, George developed the self-deprecating humor he's still so well known for and deepened his compassion for others who suffer from misfortune.
When his aunt, legendary singer and actress Rosemary Clooney, and his uncle, Oscar-winning actor Jose Ferrer, were in Kentucky filming a movie, George was given the opportunity to work on the film as an extra. It was on that set that the unassuming, but charming youngster caught the acting bug.
Following a boring summer of doing a variety of menial jobs including cutting tobacco, his cousin, actor Miguel Ferrer, suggested that George come to Hollywood to try his hand at acting. With no better options in sight, he jumped at the opportunity.
He initially stayed with his aunt in Hollywood, but after overstaying his welcome, George literally moved into a friend's closet for more than a year while he continued to knock on Hollywood's tightly-closed doors.
One day while riding a bus to yet another audition, George realized that he needed to change his attitude about getting work as an actor. Instead of thinking that the studios would be doing him a favor by hiring him, he thought that they were the ones with a problem; they were the ones who had roles that needed to be cast and he was the man who could fill their needs.
His change of mindset must have worked because he quickly scored acting roles in a number of TV pilots and sitcoms. Eventually, he was cast in his star-making, breakout role as Dr. Doug Ross on the hit series "ER."
This same mindset can be used to land your dream job or dream girl. If you think of yourself as the person that an employer needs to hire and show the confidence that you will be a valuable asset to the company, you'll do better in interviews and will likely get a great job.
The same holds true for meeting women. A woman wants to feel like you are a little bit better than her. She doesn't want to feel like she is doing you a favor by going out with you.
If you approach a beautiful woman with the attitude of, "Hey, I hope you will do me a big favor and go out with me," she probably won't. On the other hand, if you approach her with the state of mind and confidence that you have everything she's looking for in a great date or boyfriend, she's going to be happy that a terrific guy like you entered her life.
The truth is, you're already good enough for most women. Women are just waiting for you to believe that and move things forward to a kiss, sex and a relationship.
George showed a strong work ethic and a loyalty to the series that gave him his big break. With his rapid rise to fame, he was offered a number of lucrative movie roles, however, he chose to act only in those movies he could do in his down time from "ER" until his contract ran out, rather than breaking his TV contract to work full time doing films.
It was the type of move that earned him enormous respect in the industry and with producers who were willing to wait until he was available because they knew he'd be as loyal to them as he had been to the producers of ER.
Too many people complain about the work they have to do, rather than doing their best at the job they have. With a positive attitude about the job you were hired to do and a great work ethic, people will take notice and will be more likely to think of you for other job opportunities and a larger paycheck.
George's acting career continues to thrive and he's also taken on the role of producer, director and/or screenwriter for several critically-acclaimed films. However, it is not simply his talent that necessarily makes George such a good role model for men.
It is what he does with his celebrity status that makes him special. Whenever a catastrophe hits home in the United States or takes place a world away, you will often find George Clooney using his clout to organize and/or support fundraisers for the victims of tragedies such as the genocide in Darfur, Hurricane Katrina, the Haitian earthquake, tsunamis and many other natural and man-made disasters.
When he thinks he can help, he'll often head to the site and see if there's anything he can do or he will use his influence to bring additional help or exposure to a problem, even if heading to a location can be a risk to his own life.
No one is saying you should spend all of your time raising money for a good cause or volunteering for every charity out there, but occasionally doing something nice for someone else without wondering about what's in it for you will make you feel good, you'll help someone else out and you'll be an example to others by your mere actions.
Ultimately, while some movie stars will speak out for a cause or simply write a check; George Clooney literally puts his hands where his heart and his social consciousness are. Wouldn't the world would be a better place if we all put ourselves out there, even a little bit to benefit others?
Achievements
1. Organized a celebrity-filled telethon that raised over $129 million for the United Way, following the 9/11 attack.
2. Earned an Academy Award as Best Supporting Actor for his role in "Syriana," and was nominated for his directorial role in "Good Night, and Good Luck" in which he also acted and co-wrote.
3. Went to Darfur with his father (whom he calls his hero and role model) to make a documentary about that country's genocide. He then used his celebrity to go on talk shows to show footage of the film to raise international awareness of the victims' plight.
This led him to be asked to speak before the United Nations Security Council about the human toll in Darfur. Going a step further, he and several other celebrities including Don Cheadle (one of his co-stars in the "Oceans 11" trilogy) formed a non-profit organization called "Not on Our Watch" to further aid the victims.
This activism led to him and Cheadle to share a Peace Summit Award at the 8th Annual World Summit of Nobel Peace Prize Laureates in Rome.
4. Officially appointed as a United Nations peace envoy.
5. Honored with a Robert F. Kennedy Center award for Justice and Human Rights.
Want to Know the SECRET to Success With Women?
Watch this hidden video where Dan exposes his BIGGEST secret to success with women, which allows you to easily get laid or get a girlfriend.
This video is only available here and you can watch it for free right now.
Yes, I want free tips via email from Dan Bacon. I can unsubscribe at anytime with a click.
Privacy policy
.