Role Model Traits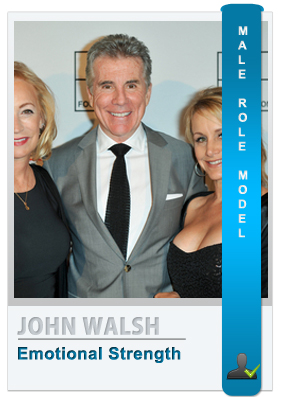 John Walsh took an unspeakable tragedy and turned it into hope and justice for others following the abduction and murder of his young son Adam. How he reacted to this life-altering path defines lessons of loyalty, devotion and leadership that many modern men can learn from.
Loyal – When there was some media and public criticism and talk of parental irresponsibility for John's wife, Revé, who allowed six-year-old Adam to play in a department store's toy section where he was abducted while she briefly shopped several aisles away, John quickly and publicly came to his wife's defense.
Family Man – Enduring that sort of tragedy causes the vast majority of relationships and marriages to end because the couple can only focus on their grief and loss. Conversely, John and his wife grew even closer and chose to have three more much-loved children.
Leader – Rather than allowing himself to be swallowed up by his grief, instead John became a leading activist for change regarding the human rights of missing and exploited children.
Being a leader in any way at any time is one of the many personality traits and behaviors that naturally attract women. You don't have to be the biggest leader in the world or boss people around; you just need to have the balls to lead as often as you can.
Emotional Strength – Although it was obvious that John and his wife were desperate to find their son, John held himself together emotionally enough to work with law enforcement to give them the help they needed and hounded the media to cover the story so that his son could be found.
His Story
John Walsh never set out to be a leading human rights activist. He was a successful, upper-middle class hotel developer with a career on the rise. But on a fateful day in July, 1981, his six-year-old son, Adam, was kidnapped and murdered. That day, his life changed forever.
In a quiet suburban area in South Florida, John Walsh's wife, Revé, took Adam for a quick trip to a local department store. As was common practice with parents and children in those more innocent times, she allowed Adam to play in the toy department while she briefly picked up some household items several aisles away. When she went to look for Adam a few minutes later, he had disappeared.
The Hollywood, Florida local police department immediately stepped in and began looking for Adam and his abductor. However, since they had never encountered a kidnapping case like this, they lacked the adequate skills and resources needed to find Adam.
Not willing to let the local law enforcement agency's inexperience hinder the search, John stepped up and used all of his clout with influential friends and local businesses to help find Adam. With much prodding from John, the kidnapping was picked up by the local media and he then pushed even further until it received national coverage.
Two weeks later, just as John and his wife were getting ready to be interviewed about the kidnapping on a national morning talk show, they were told that Adam's severed head had been found more than a hundred miles from his home and the grieving process began anew.
Thousands of letters began pouring into the Walsh family home, offering sympathy or sharing their own story of loss or abduction. While John struggled with his grief and watched his thriving business begin to fail, his wife began reading the letters for comfort.
She told John about the letters and that there were many other abduction victims whose stories weren't being told and that they needed someone like John to take up their cause.
John then decided to expand his knowledge and build on the political, media and law enforcement contacts he had acquired while searching for Adam to not only continue to search for Adam's killer but to try to help other families.
He recognized that too many families were desperate, but didn't have his resources or inner strength that John and his wife has developed to help find their loved ones. He chose to step up and become their advocate.
In the garage of their home, John and his wife founded the Adam Walsh Child Resource Center, a non-profit organization dedicated to legislative reform. Later, John worked with the NBC network to produce docudramas about the Walsh's story – "Adam" and several years later, "Adam: His Song Continues."
The movies helped to raise public awareness of the widespread and growing problem of missing and exploited children and also led to legislative changes. At the end of the movies, photos were shown of missing children and 66 of them were recognized by viewers who called their law enforcement agencies and the missing children were returned home. What an achievement!
John and his wife's efforts in this area helped to pass the Missing Children's Act of 1982 and the Missing Children's Assistance Act of 1984.
The latter bill founded the National Center for Missing and Exploited Children, which maintains a toll-free hotline to report missing or exploited children or the sighting of a lost/abducted child. The Adam Walsh Child Resource Center eventually merged with the National Center for Missing and Exploited Children where John serves on its Board of Directors.
If you have a cause that you are passionate about, don't let your voice end at the voting booth or think that you as a sole individual are powerless. Visit your local representatives, start public campaigns and do whatever you can to seek changes to those things that you believe need reform.
John's proactive stance and his campaign to help families like his gave him much national media exposure and when ABC was planning to produce "America's Most Wanted," to find criminals and missing persons, they sought John Walsh as their host.
With John at the helm of the highly-rated show, more than 1,100 international criminals from more than 35 countries have been brought to justice and more than 50 children have been reunited with their families. Yet, John and the show have achieved even more.
Due to the media coverage John garnered and the public campaigns he started to aid victims, punish their attackers and bring to justice other child predators, stronger legislative acts have been passed and signed into law. The world has become a safer place because of his efforts, because countries around the world are following the lead of what John has achieved in America.
John has also created plans to help law enforcement agencies both nationally and internationally to work together to help arrest criminals and find missing children.
Twenty five years to the date of Adam's abduction, at a ceremony at the White House attended by John and his family, then-President George W. Bush signed the toughest legislation in history aimed to track and apprehend convicted sex offenders who disappear after their prison release – the Adam Walsh Child Protection and Safety Act – into law.
John has written three books, is one of the most highly-decorated citizens to ever be honored by law enforcement agencies and continues to fight to find justice for missing and exploited children and adults around the world.
Achievements
Has written three best-selling books, "Tears of Rage: From Grieving Father to Crusader For Justice: The Untold Story of the Adam Walsh Case," "No Mercy" and "Public Enemies," which talk about his family's story and the toughest "America's Most Wanted" cases he's worked on.
Honored five times by four U.S. Presidents for his work in criminal justice and for fighting for tighter legislation on child advocacy laws.
Named "Man of the Year" by numerous law enforcement agencies throughout the world including the U.S. Marshals Office and the FBI citing his work to pass stronger laws and his help in capturing criminals.
Named as an honorary U.S. Marshal. This is a distinct accomplishment in that he is only the third non-law enforcement citizen in the agency's 200-plus year history to receive such an honor.
Want to Know the SECRET to Success With Women?
Watch this hidden video where Dan exposes his BIGGEST secret to success with women, which allows you to easily get laid or get a girlfriend.
This video is only available here and you can watch it for free right now.
Yes, I want free tips via email from Dan Bacon. I can unsubscribe at anytime with a click.
Privacy policy
.