Role Model Traits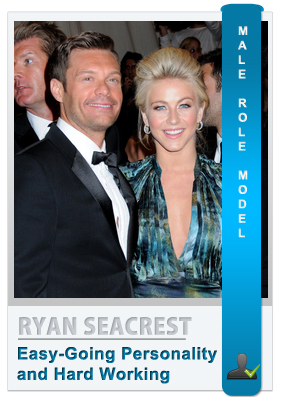 Most people think of Ryan Seacrest as a man who got lucky when he became an overnight sensation after he landed the job as host of "American Idol." In reality, he'd been preparing for success most of his life.
Resourceful – Throughout his life, Ryan had been complimented on the sound and quality of his voice. Recognizing this asset at an early age, he proactively sought out opportunities to use that talent to help him become successful.
Easy-Going & Charming Personality – Although he started out as a co-host along with comedian Brian Dunkelman in the first season of American Idol, his easy-going personality and charm allowed him to effortlessly relate to the contestants, audience and judges and to then become the show's only host from the second season on.
Confident – While many people feared former "Idol" head judge, Simon Cowell, Ryan was always willing to go toe-to-toe with the often cranky and opinionated judge when he felt Simon had come down on a singer too harshly.
However, he almost always did it in a way that wasn't too confrontational, but rather witty and relaxed. Cowell would quickly calm down and the contestants and audience would be spared from a potentially nasty verbal fight between Cowell and Seacrest.
Hard-Working – In addition to his duties as the host of "American Idol," Ryan also has developed his own successful television production company (Ryan Seacrest Productions) and hosts other highly successful TV and radio shows.
Charitable – Along with his diverse philanthropic efforts, Ryan uses his influence as a popular spokesman to negotiate with major corporations to help sponsor his favorite charity, "Operation Smile," which provides dental services to children in third world countries.
Great conversationalist and communicator – not only has he been able to host TV shows and radio shows, but is also a great interviewer when the time calls for it. If you've ever overheard him talking to women at parties or events, you will have noticed that he definitely knows how to put on the charm and attract women when he wants to.
Story
Most people became aware of Ryan Seacrest when "American Idol" became such a huge international hit, but his huge success as a public personality didn't come overnight. His path on the road to fame and fortune can help you as a modern man to find your own road to success in whatever field you work or aspire to be in.
From an early age, Ryan was told how pleasant the sound of his voice was and he recognized that this was a talent that could one day prove profitable. (Each of us has a talent. You just have to find yours and decide how you're going to use it to your advantage).
So instead of playing with toys as a kid, Ryan began practicing with a microphone and was eventually asked to make announcements over the loudspeaker at his high school. Then, at age 16, he worked his way to obtaining a much-sought-after internship at a local radio station in Atlanta.
Ryan sought out the mentorship of a disc jockey veteran at the station who taught him a number of aspects of the radio business. He quickly excelled at all that he was being taught and one night when one of the regular hosts called in sick, Ryan was given the opportunity to fill in for him.
By the next day the station's managers, realizing that Ryan showed a lot of potential, decided to give him his own weekend radio show.
Finding a mentor to help you learn the ropes is always an excellent tool for getting ahead in any field. Most successful men are generally more than willing to help the next guy scale his own ladder to success. Find a mentor or two to help you learn what it takes to be successful in whatever endeavor you wish to pursue.
When you reach the top, consider helping someone lower on their success ladder to climb up and reach their goals. Helping someone doesn't diminish you nor does asking for help make you appear needy. In the end, this type of collaboration will make you both stronger.
While he initially went to college to study journalism and was keeping his options open, Ryan soon realized that he was gaining popularity and notoriety in the business so he decided to move from Georgia to Hollywood to find bigger avenues for success.
By the time he was 20 he landed a job with a highly-rated Los Angeles radio station and hosted his own program, "Ryan Seacrest for the Ride Home." The show rapidly became the station's number one program and was eventually nationally syndicated. He then decided that the television industry was the next step he should take in his climb to entertainment industry success.
Soon, Seacrest was hosting several television programs for the American cable sports network ESPN and eventually moved to NBC where he hosted several shows before being asked by TNN, then a new cable network, to host one of their original programs. All the while, Ryan maintained his work as host on his radio programs which led to even more TV projects. While not all of the TV shows were a ratings success and several were quickly cancelled, Ryan's status in the industry continued to grow.
When the new singing talent show, "American Idol," was looking for a likeable co-host to work with comedian Brian Dunkleman, they quickly hired Ryan Seacrest to be one of the main "faces" of the show. Ryan came off to the audience and contestants as being relaxed, confident, warm and relatable while Dunkleman (who quit the show after the first season amid rumors that he was going to be fired) appeared ill-at-ease and looked as if he wished he was anywhere but on the "Idol" stage.
Dunkleman has since gone on to say that leaving "American Idol" was "the biggest mistake in the history of show business." As "American Idol" took off and became a ratings blockbuster, so did Ryan's status as a rising star.
His hosting abilities were soon being desperately sought by other shows and he later signed an initial three-year, $21 million deal with the E! Network to co-host their daily evening entertainment news program and red carpet coverage of major award shows alongside Bill Rancic's wife, Giuliana (DePandi) Rancic.
Other TV hosting jobs also came his way including "Rockin' New Year's Eve with Dick Clark Hosted by Ryan Seacrest" (where he also acts as executive producer), a "Walt Disney World Christmas Day Parade," a Daytime Emmy Awards broadcast and many others.
Ryan also became the new host of the internationally syndicated weekly countdown radio show, "American Top 40" (created and formerly hosted by the iconic and early Seacrest idol, Casey Kasem) and he also replaced Los Angeles radio legend, Rick Dees, to host the renamed "On Air with Ryan Seacrest" radio program.
On the later show, Seacrest not only acts as host of this internationally-syndicated show, but he also works as an executive producer. If his hosting days ever come to an end, he can still produce quality shows and continue to build on his fame and fortune.
Now that you know Ryan Seacrest's story, you can see that his success wasn't just luck. He worked hard to build his brand and continues to work toward creating his own career destiny. Take a few minutes to think about your own natural talents and start carving out your own path to a rewarding career and life.
Achievements
Formed Ryan Seacrest Productions (RSP), which has produced original TV shows such as "Denise Richards – It's Complicated" following the life of the actress (Charlie Sheen's ex), "Keeping Up with the Kardashians," "Jamie Oliver's Food Revolution" and several other series and televised specials.
Works as the spokesman for Crest and Scope dental hygiene products. Ryan has worked out a deal with Scope so that they will match any funds he raises for his favorite charity "Operation Smile," which provides poor children throughout the world with proper dental care.
A partner with major corporations such as Microsoft, Proctor and Gamble, Coke and others on a series of significant projects.
Signed a $45 million deal with "American Idol" to continue his hosting duties and earns tens of millions from other projects and contracts.
Although he's often called "one of the hardest working men in show business," he still finds time to maintain a thriving romance with former "Dancing with the Stars" dance professional/choreographer and multi-season champion and now award-winning country singer and beauty, Julianne Hough.
Want to Know the SECRET to Success With Women?
Watch this hidden video where Dan exposes his BIGGEST secret to success with women, which allows you to easily get laid or get a girlfriend.
This video is only available here and you can watch it for free right now.
Yes, I want free tips via email from Dan Bacon. I can unsubscribe at anytime with a click.
Privacy policy
.