Role Model Traits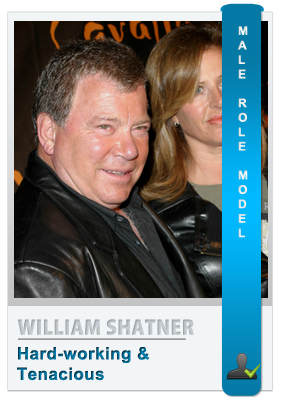 What makes William Shatner such an interesting male role model is not his successes, but rather his failures and his ability to bounce back from them to become an even stronger man.
Tenacious and Hard Working – In the best sense of the term, William Shatner has always been a "working actor." Whether he had a starring role, a guest spot or even took some questionable parts in low-budget or low-quality projects, he has always stayed devoted to his craft.
For him, "Work equals work." Of his early career a producer said, "(Bill) became a working actor who showed up on time, knew his lines, worked cheap and always answered his phone."
Self-transformation – Shatner has seen his acting career rise and fall many times so he constantly re-invents himself as an actor, spokesperson, singer, author, interviewer and more so that he is always able to earn a paycheck.
Self-Deprecating – Much has been made about Bill's (as his friends call him) strange staccato line delivery, most noticeable in one of his most famous roles as Captain James T. Kirk in the "Star Trek" series and movies.
His acting style is often great fodder for celebrity impersonators and endless comedy skits have been done at his expense. But the person who generally laughs the loudest at these "tributes" is Bill himself.
Inquisitive and Disarming – William Shatner is fascinated by people and that's most obvious in his series "Shatner's Raw Nerve" on the Biography Channel where he interviews celebrities and other notables.
He digs deep in these discussions and often asks insightful questions in such an authentic and disarming way that he gets his guests to open up and talk about their personal life in ways they say they've never done before.
His Story
William Shatner was born and raised in Canada and has been acting since his childhood. As a young man, he was a trained Shakespearean actor who showed much promise. It has often been said that he is as gifted as his acting contemporaries Paul Newman, Steve McQueen and Robert Redford.
It took him a long time to live up to that promise, but he worked hard to become an award-winning talent who has earned much respect in the acting community.
In his early career he suffered by making some poor choices and accepting many of the low-quality roles that he was offered. His strong work ethic and desire to support his family made him select almost any role rather than waiting until something more substantive was offered to him.
When he initially took the role of Captain James T. Kirk in the series "Star Trek," Bill never thought that it would become something that he would be associated with for the rest of his life. The show was canceled after the first season due to poor ratings and Shatner was almost relieved.
It wasn't until "Star Trek" went into re-runs that viewers developed such an interest in the show that they demanded that the series be returned. And although he had been working steadily for decades, this is when William Shatner became so well known to the public.
For Bill (as he's called by friends and family), the return of "Star Trek" was a mixed blessing. It was a steady paycheck in a lead role of a popular series, but his ego soon took a big bruising when fans started clamoring to see more of "the guy with the ears" – Leonard Nimoy in the role of Spock.
Suddenly Bill's leading role and screen time had to be shared and he admits that he wasn't always gracious about it. Even though he was a professional on the set, he made it clear that he wasn't happy with the script changes that gave bigger roles to his co-stars.
His foul mood often caused considerable tension on the set. (He has since made public and private apologies to his castmates and, in fact, eventually developed a close friendship with Leonard Nimoy.)
Unless you're a sole-proprietor of a business, it's essential to work as a team player with the other employees. You should always do your best to encourage others to do their best work and cheer them on when they succeed.
Ironically, this type of approach will get you promoted to leadership or bigger roles more often than trying to steal attention away from other people. As the old saying goes, There's no *I* in the word TEAM.
Bill decided to use his new-found popularity to record albums. While not sung, they were dramatic spoken interpretations of songs such as "Tambourine Man," "Lucy in the Sky with Diamonds" and "Rocket Man." While critics blasted his efforts, his fans supported his creative endeavor and the albums became big hits.
When "Star Trek" was canceled, Bill was typecast as Captain Kirk and found it difficult to get acting work. At the same time, his first marriage fell apart and he and his wife divorced. He lost his home and spent several months living in his truck while still pursuing acting roles.
Eventually he was offered small guest spots in sitcoms and other shows which then led him to being cast in the lead role of the "T. J. Hooker" TV series. While popular with the audience, Bill didn't get enough professional satisfaction from the role.
He stayed with it because he felt the responsibility to support his children from his first marriage and his new wife and worked with the producers and writers to try to make the show better.
After "Hooker" ended, he took whatever jobs he could get including making public appearances at Star Trek conventions. Although he had a distain for Trekkies (loyal "Star Trek" fans), he was relieved to receive a paycheck.
In today's economy, modern men will often find that they have to take a job even if it isn't in their ideal profession. There's no dishonor in taking a job that doesn't meet your capabilities to support yourself or your loved ones. However, you should never give up on your true purpose. Spend your after-work hours equipping yourself with the skills to eventually work in your dream job.
When the "Star Wars" movie series became so popular, the "Star Trek" producers decided to cash in on the outer space science fiction craze and resurrected the "Star Trek" characters in feature-length motion pictures. Because he was such an icon in his role as the captain of the Starship Enterprise, Bill began receiving greater financial rewards. He also began to get more professional enjoyment in reprising his role as Captain Kirk for the big screen. The movies were a financial success but Bill still looked for greater artistic outlets.
He's credited with writing a series of books based on the "Star Trek" characters that were a huge hit with sci-fi fans. He also made numerous guest appearances on a variety of popular television shows. Bill eventually came to terms with his popularity with Trekkies and embraced their adoration. He also discovered that several young producers were also his fans and were anxious to cast him in their projects.
Although not a typically good looking man, his role in Star Trek turned into a bit of a heartthrob and many women felt attracted to him. This happens because women are more attracted to things about a man other than his looks.
A couple of years after his second marriage came to an end, he married a woman he called "the love of his life." Unfortunately his new wife had a drug and alcohol addiction. Despite his best efforts to get her treatment, she accidentally drowned in their family pool after consuming sleeping pills and alcohol. He was devastated to find her body and learn of her death.
Bill was hired to do a popular series of commercials for Priceline, a discount travel website. As the website's spokesman, the commercials took advantage of Shatner's comedic ability to parody himself.
The popularity of the commercials resulted in him landing the role of Denny Crane in the final season of "The Practice." His bombastic character portrayal was so well received that writer/producer, David E. Kelley, hired Shatner to reprise the Crane character in his new spin-off series, "Boston Legal."
In an interview about Shatner and the series "The New York Times Magazine" described the casting as "William Shatner the man…playing William Shatner the character playing the character Denny Crane, who was playing the character William Shatner."
Shatner is happily married to his fourth wife who shares his love of equestrian riding and raising horses and is one of the busiest "working actors" in show business.
His Achievements
Received an Emmy Award and numerous nominations for his character Denny Crane on "Boston Legal."
Recorded a wake-up call for the space shuttle Discovery as it finished its final mission at the International Space Station using the music theme from "Star Trek" and parodying the opening statement he made each episode of the series.
Received the Governor General of Canada's Performing Arts Award for Lifetime Artistic Achievement. He recorded a humorous short film for the occasion – "William Shatner Sings 'O Canada'."
Raises champion American Saddlebred horses with his wife and rides in charity equestrian events.
When he passed a kidney stone, he sold it for $75,000 on an auction website. That money, along with donations from the cast and crew of "Boston Legal," built a home for "Habitat for Humanity."
Want to Know the SECRET to Success With Women?
Watch this hidden video where Dan exposes his BIGGEST secret to success with women, which allows you to easily get laid or get a girlfriend.
This video is only available here and you can watch it for free right now.
Yes, I want free tips via email from Dan Bacon. I can unsubscribe at anytime with a click.
Privacy policy
.