Don't worry, you're not alone. You are one of the millions of modern men who get nervous when talking to women they like. It's a little bit different for each guy, but maybe your palms get a little sweaty, your heart beat speeds up, your face feels tense, your mouth becomes parched and dry and you might even begin to blush a little. Added to all the physical symptoms is that annoying voice in your head that is constantly saying, "Why do I get nervous when I talk to women I like? I'm going to mess this up again, I can feel it! I don't know what to do! Look, she doesn't like me. She's not acting very interested. I should get away from her before she tells me to go." No matter how much you try to convince yourself to stop feeling nervous, it just keeps happening. So, why is that? Let's start with the most common cause for modern men feeling nervous around women. The question I have for you is...
Do You Believe What You See in Movies or TV Sitcoms as Being Real?
When growing up, if a guy doesn't have a great male role model to teach him how to be successful with women, he will usually turn to what he assumes is the next best authority on women – the media. These guys think that what they read in magazines or see on TV sitcoms or in the movies is how women behave, think and act in the real world. They believe that women are difficult to approach and may slap or tip a drink over the head of a guy for approaching, because that is what happens on TV and in the movies. Why does it happen on TV in the movies? It's entertainment! It gets people laughing or having any other type of strong emotional reaction. If TV sitcoms and the movies just showed everything going perfectly for everyone all the time, people would get bored of watching it.
In the movies and on TV, women are flaky, stuck up and even very bitchy and mean. So, for a guy who hasn't been taught the truth about what it takes to be successful with women, seeing all that on a regular basis can make him feel insecure, uncomfortable and fearful when it comes to approaching and talking to the women he finds attractive. In the real world, women are open to meeting and talking to guys, as long as the guy approaches in the right way.
Unfortunately, the media brainwash modern men into believing that it's all about the car that they drive, the cologne or the clothes they wear, or the job they have that makes them attractive to women. Yet, a guy can have no car, no cologne and no job and still get a woman. If you believe what the TV commercial tell you about what attracts women, then you're in for a very confusing life of buying the latest deodorants, clothes, cars, gadgets, hair dyes and anything else that comes out. What you need to realize is that talking to and attracting women is simple when you are confident and simply go through the right process with her.
Why Do Some Guys Feel Nervous When Talking to Women They Like?
Guys who ask me, "Dan, why do I get nervous when I talk to women I like?" are always (not sometimes) those who have been thinking, behaving and acting like a lower-ranking male, instead of embracing their masculinity and being a strong alpha male. If you think like a lower-ranking male, you will naturally feel nervous. It's just the way it goes. If you want to be confident, you have to change your thinking. If you are afraid to be alpha because you think it's about being a "bad boy," then think again. You don't have to be bad to be alpha, you just have to be strong (mentally and emotionally).
These days, many modern men get nervous when they talk to women they like because:
They suffer from lack of confidence and have low self esteem
Deep down, guys like this believe that they are not good enough for the women they like, so when they make an effort to approach these women they naturally get nervous and feel self-conscious. Women sense this nervousness (emotional weakness) and have to reject the guy. Why? Women are not attracted to the weakness in men.
They fear rejection.
When it comes to approaching and talking to women, fearing rejection is a mistake of lower-ranking males. An alpha male knows that women will naturally feel attraction for him, so he approaches to meet her. However, a wise alpha male will also know that there is no such thing as rejection. Read: There's No Such Thing as Rejection
They wait for the woman to make the first move.
Women like to be approached by a guy first because they want to see that he has the confidence to do it. If she approaches, she will likely give a chance to a guy who isn't very confident. Some very good-looking guys will get approached by women, but women will lose interest in them as soon as they find out the guy isn't confident. Other than that, women will rarely approach. If you want to have your choice with women, you've got to be confident enough to walk over and attract the women you choose.
They fear humiliation.
Being humiliated in front of friends and peers (or even strangers for that matter) is not an attractive proposition for anyone. However, if this fear turns to insecurity and self doubt and prevents a guy from approaching the women he likes, then it becomes a more serious problem that requires attention. If you're one of the many guys who've wondered, "Why do I get nervous when I talk to women I like?" then you probably don't know about mindsets and the fact that your confidence is your responsibility. It's something that you need to build, maintain and grow throughout your life. If you use bad mindsets (negative mindsets), it should be no surprise to you that you feel nervous when talking to women you like.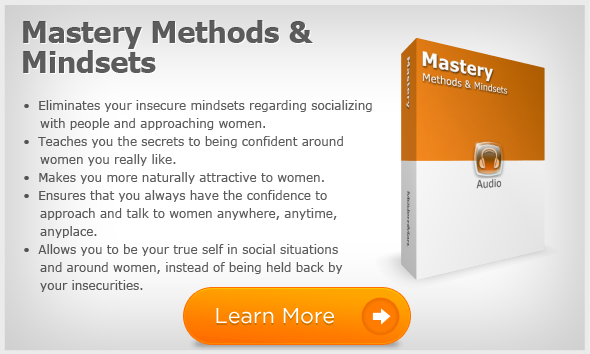 They put too much pressure on the situation.
Many guys get nervous when they talk to women they like because they invest way too much into how much they like a particular girl. For instance, some guys will already be imagining having a loving relationship with a girl or marrying her, even before they've approached to talk to her. Putting pressure on yourself before you even start a conversation is a sure way to set yourself up for failure.
They can't keep a conversation going or keep it interesting.
One of the keys to success with a woman is being able to engage her in an enjoyable conversation that has all sorts of emotional variances, as well as a subtle, sexual vibe running through it the entire time. If the conversation goes well, the woman will naturally be open to taking things further. However, if it is boring and doesn't make her feel the emotions she wants to feel when interacting with a possible lover or boyfriend, then she won't be interested in taking things further. It's pretty much as simple as that, which is why you see all sorts of guys with beautiful women.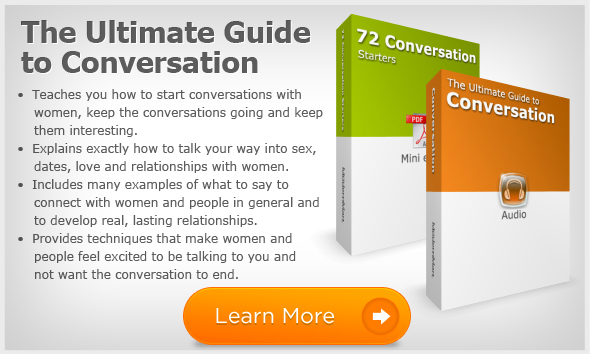 They are intimidated by women.
Some guys think that showing a woman how nervous or intimidated they are around her, will somehow impress her and make her feel flattered. Yet, women are turned off (sexually) by men who are afraid of them. A woman might string a guy like that along (even into a relationship for a while), but she will leave him in a second if she gets a chance with a real man.
Do You Want to Improve Your Confidence and Conversation Skills?
Confidence and conversation skills are fundamental to your ability to enjoy success with women and have your choice with women. So, if you've been wondering, "Why do I get nervous when I talk to women I like?" you probably now realize that you've been feeling that way because of lower-ranking male behavior, thinking and actions. However, that doesn't mean that you can't change that and become more confident and alpha. Here at the Modern Man, we have just what you need to help you confidently talk to women and guide them into a sexual relationship with you.
Next Page >>

Even though most women are just as keen to meet a guy as you are to meet a girl, when you meet a woman you like, you can stop yourself from being nervous, right?