The more attraction that you make a woman feel for you, the more desire she will have to be sexual with you.
To sexually arouse a woman, you need to display personality traits and behaviors that women find naturally attractive and arousing.
For example: Confidence, charisma, charm, humor and a masculine vibe.
3 Examples of How to Sexually Arouse a Woman
Women instinctively feel sexual attraction to men with alpha male characteristics. In other words, a woman will feel aroused by you if you think, behave and act like a masculine man around her.
Here are some examples of how to do it:
1. Eye contact
You can make a woman feel sexually aroused by looking at her in a confident, self-assured way. To increase her arousal, look her body up and down and then look back into her eyes with a smile that shows you find her sexually attractive.
2. Touch
When you first begin talking to a woman, touch her on the side of the arm in a confident, self-assured way. Be relaxed, masculine and powerful in your presence, but make your touch feel gentle, warm and loving.
She will feel aroused by the fact that you're such a strong, powerful man and you also know how to touch her in a sexually seductive way. This type of feeling literally makes some women feel "weak at the knees" in your presence.
3. Flirting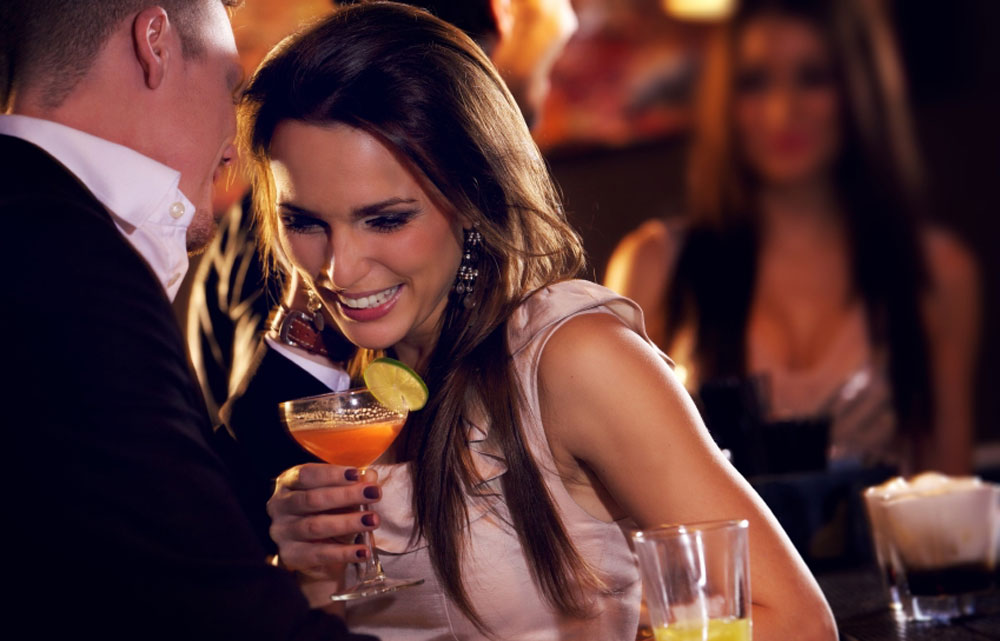 Flirt (verb): To behave as though you're attracted to or trying to attract someone, but for amusement rather than with serious intentions. To court triflingly or to act amorously without serious intentions.
Flirting is essentially about showing your sexual or romantic interest in a woman, but in a light-hearted, non-serious manner.
All women love guys who can flirt because flirting is discreet and non-committal. Women know that it's not serious and they use it as an opportunity to feel sexual desire (e.g. because you're being confident when flirting with her) and to express their sexual desire by flirting back.
How does it work?
Imagine that you're talking to a woman in a bar. You find her incredibly attractive and she seems to like you too. She's laughing, giggling and enjoying the conversation with you. After a while, you ask her what she does for a living and she says, "I'm an accountant."
So, how you can flirt with her in response to that?
Remember what flirting is. It's about showing your sexual or romantic interest in a playful, non-serious manner. So, you could say, "Oh wow, an accountant. So you're smart and beautiful. I've hit the jackpot."
You can then both have a laugh and flirt with each other via your eye contact and touch, to discreetly show your sexual and/or romantic interest in each other.
Emotional Arousal
Most of what it takes to sexually arouse a woman happens in response to your thinking, behavior and actions. The way that you think, behave and take action either turns her on or it doesn't.
For example: Are you a confident guy or a nervous, insecure guy around her? Would you be able to confidently do what you want to her in the bedroom, or would she feel like you were hesitating and worried about not being good enough for her?
Could she see herself surrendering to you, spreading her legs wide open and saying, "Yes! Give it to me!"? or does she feel like having sex with you might be a fairly boring emotional experience?
Those are the types of things that really matter to a woman. She's more interested in what type of emotional experience that she is going to have with you. When you are able to turn her on emotionally, the physical side of sex will feel amazing no matter what you to do her…even if that is just missionary position and then doggy style.
Women Feel Aroused by Confidence
We men feel an intense attraction for a woman's physical appearance, which is why men masturbate to porn. A man can simply look at a woman and get an erection.
Yet, for women, it's more about who you are and what traits you are displaying around her. One of the easiest ways to sexually arouse a woman is to display confidence around her.
I'm not talking about the loudmouth, show-off, asshole type of confidence that douchebags display, but the relaxed, masculine type of confidence that cool, charismatic guys display.
When a woman notices that, no matter what is happening around you, your confidence remains completely in tact, she feels an intense for you. When you also add in some charm, charisma and humor, she is basically yours.
It's very difficult for a woman to find a good guy who has relaxed, masculine confidence and also happens to be a bit charming and charismatic. It's like hitting the dating jackpot and when a woman meets a guy like that, she does whatever she can to ensure that they have sex or at least start dating.
Make Her Feel Girly in Response to Your Masculinity
These days, women often have to compete alongside men in the workplace, which forces them to take on some masculine qualities, such as: Leadership, logical planning, strategy and dominant behavior.
Some women also find themselves wearing the pants in a relationship because these days, men and women are often encouraged to play "equal" roles in life. Yet, being a man's equal or "partner" doesn't allow her to relax into being his girl.
She has to lock away the "girly girl" side of herself and pretend to be more like a man, which isn't sexually arousing because it goes against her true, sexual nature.
Although she wants to be respected and have a chance to succeed at university or in the workplace alongside men, that doesn't mean she wants to be a man. Inside, she is still a girl and to become sexually aroused, a guy needs to be able to get her to connect with that side of herself.
Some guys make the mistake of talking to women like they are "one of the guys," which is fine if you want to get along with a woman as a friend, but it won't turn her on. The shortcut to turning a woman on is to make her feel girly in response to your masculinity.
Want to Know the SECRET to Success With Women?
Watch this hidden video where Dan exposes his BIGGEST secret to success with women, which allows you to easily get laid or get a girlfriend.
This video is only available here and you can watch it for free right now.
Yes, I want free tips via email from Dan Bacon. I can unsubscribe at anytime with a click.
Privacy policy
.