The topic of not having many close friends may NOT apply to you, but I thought I'd share it anyway because it's a VERY COMMON problem for men today. I'm going to be talking about the lack of FRIENDS in a modern man's life and how it can seriously slow him down from succeeding with women & dating.
If you're interested in learning how to make more friends, check out Phil's story below, before reading my response to it.
Question
"Here's my story…
I'm 28 and am in the process of getting divorced. My wife just up and left one day and it pretty much destroyed me. When I started to put the pieces back together I realized that I was never good with women and won my wife on a whim. That's what brought me to your book. I need to get better with women, I need to be more confident and interesting.
I think I'm different from most guys because I'm not afraid to get shot down. I really just don't know what to say and most women think I am a jerk when I try so I just don't. The thing is I refuse to date even mediocre looking women. This is something that I catch a lot of shit from my friends for. I am probably one of the ugliest guys around who has never dated a fat girl.
Tonight I ran into a girl I have known since I was a kid at the local grocery store. I haven't seen her in a few years. She's at least five years older than me. She's hot, I mean hot!!! When I saw her, I said hey, how have you been. I kind of expected her to say hey and keep walking but she stopped and gave me a hug. Not a what's up little bro kind of hug either.
Anyway we caught up for a few minutes, then I started to realize that she was showing interest in me. Instead of doing the right thing and trying to spark attraction I got nervous and ended the conversation. Needless to say after I walked away I got mad and felt like a wuss. Did I mention she is hot???
Also, I don't have any single friends right now so I don't have a wingman to go out with to socialize. I guess that's the first thing I need to find. Do you have any ideas on that? Phil, 28 from CA in the USA"
Reply From Dan
Well done Phil.
Sounds like you are regaining your power with women and good luck with the hottie you're working on. I'm also impressed that you flat-out REFUSE to date ugly women even though you're not that good with women yet AND you also consider YOURSELF to be 'ugly'. As Stu from The Modern Man says, "Life's too short to date ugly women…"
You've also raised an important topic about FRIENDS that I will now expand on. You said, "I don't have any single friends right now so I don't have a wingman to go out with to socialize. I guess that's the first thing I need to find. Do you have any ideas on that?"
Definitely. Over the years, I've found that most guys have guy friends that are either:
In relationships already, so they usually aren't up for going out and meeting single women.
Not good with women, so even if they went out to meet women they probably wouldn't get very far anyway.
Good with women, but are unwilling or unable to help.
This leaves a lot of guys feeling STUCK and alone with their problem of being unsuccessful with women. Their friends can't help them and they also don't feel comfortable going out alone to meet women. This is something that I understand all too well, because it held me back from success with women for a very long time.
For many years, the ONE and ONLY friend I had was a negative kind of guy who NEVER wanted to approach women.
He'd just stand there making fun of people, complaining or coming up with excuses as to why we shouldn't approach the women we found attractive. "Ahh, they're probably just bitches with boyfriends…" he'd say, "All they want to do is dance and have guys hitting on them. They want guys to buy them drinks and then they go home alone."
He'd quitely call women all sorts of names and insist we just "kick back and have a drink." Yeah, like that is going to get us a girl or help us make some new friends.
I'd often try to get him to look at the situation differently, "Come on man, they can't all be taken …surely some of these women are single and want to meet a guy…" My friend refused to change, so I eventually stopped hanging out with him altogether. Unfortunately, this then left me with pretty much no-one to hang out with.
I knew a couple of guys through work and (once or twice a year) I would get invited to small house parties. While these party invites were a great relief and made me feel a little better about my non-existent social life, they never did deliver what I wanted in the first place: A girlfriend (or a woman to have sex with for a while) as well as some new friends to hang out with.
I felt stuck…and as the best years of my life ticked away, it suddenly dawned on me that I had two choices:
Settle for an ugly, fat woman (that nobody else wanted).
Continue to stay single and alone.
The reason I only saw TWO CHOICES back then was that I didn't know it was possible to improve my ability with women. There was no Modern Man back then, so I didn't think there was a 3rd option.
I didn't know that I could become more confident and improve my ability to attract women and make new friends. Even though I was pretty desperate to meet a woman, I didn't settle for Option 1…I chose Option 2 and remained single.
Here's the thing though…
Being single is FANTASTIC when you are good with women, because you can hook up with new women all the time and often have several women fighting to get into a relationship with you. As Ben, Stu and I often jokingly say, "It's a tough life" (being this good with women).
However, being single when you're not good with women is NOT fun. It sucks, it's boring and it makes you feel lonely and left out. It's also very annoying because people always pester you about being single.
I remember getting to the point where I would DREAD going to functions or family dinners because I knew I'd have to face up to the annoying "Do you have a girlfriend yet?" questions and the follow-up comments of "Don't worry, you'll find a nice girl one day…"
I hated hearing that!
I WANTED to meet a girl, but to do that I first needed to make some new friends so I would have someone to go out approaching women with. There was only one problem… I had NO IDEA where to find new friends.
Four BORING, LONELY YEARS LATER I eventually made friends with a cool guy through a chance introduction. Like me, he was keen to go out and meet women on the weekends. Both of us were hopeless with women and had a LOT to learn, but at least now I had SOMEONE who wanted to go out and meet women with me.
As we began going out to approach women every Friday and Saturday night, I realized a HIDDEN benefit to approaching and meeting new women: WE WERE ALSO MAKING LOADS OF NEW FRIENDS in the process.
Before too long, I had made four new friends, then 10 and then loads more as the months went on. I was getting invited to more parties, more functions and catching up with more friends during the week.
This led to me being introduced to women through friends (which is one of the EASIEST ways to meet women) and hooking up with some amazing women. It's interesting, because for most of my life, I've really only ever had one or two friends at any given time.
These days, I have loads of great friends and about 30% of them are female. With my female friends, there is always either an invite to a party, a call to say hello or a catch up mid-week for dinner or coffee. As my for my guy friends: One of the reasons I didn't have many (or any) cool guys friends in the past, was that I didn't know how to get along with cool guys.
In high-school, I usually hung around with the NERDS, even though I didn't see myself as a NERD.
I WANTED TO hang out with the cooler crowd (and I sometimes got a random opportunity to) but for some reason, I just couldn't relate to them on their level. Since developing my skills with women and becoming a more charismatic guy as a result, I am living a COMPLETELY different lifestyle. I have many beautiful women in my life and loads of great friends.
The Secret to Making New Friends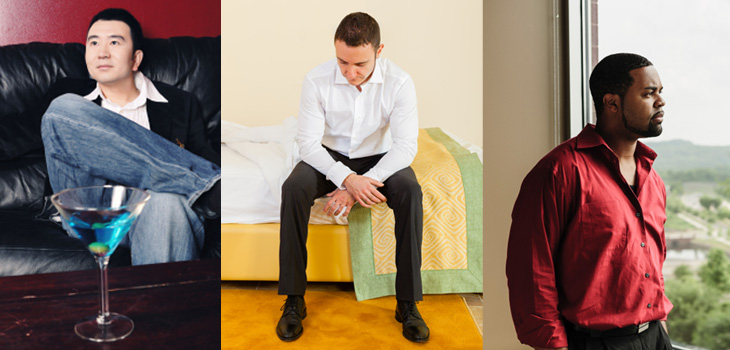 First off, you have to make sure that you're the type of guy that people want to be friends with.
In other words, you are confident, charismatic and a good guy alpha male.
Ideally, you also have a life purpose and are going after it with unrelenting determination. You're not just another confused, insecure guy who doesn't even know what he wants from life other than the basic dream of having a woman, a house and then retiring.
If you want to make new friends, repeat these five steps until your life is full of cool, loving and loyal friends:
1. Get out there and start meeting women in many different places: If you don't know what to say or do when you meet women in everyday situations, then listen to 21 Great Ways to Get a Girlfriend.
Ben, Stu and I will teach you WHERE to meet new women during the day AND night. We will ALSO explain what to SAY and DO in each situation so you can date more women and make more friends with men AND women than you ever have before.
2. Spark up interesting conversations with women AND men in your everyday life: You'll be surprised how keen most people are to meet new friends, and how keen most women are to find a boyfriend or lover. Just talk to people in an easy-going way and make sure that you use conversation techniques to keep the conversation interesting.
3. Be yourself: If you put on an act of being an innocent, vulnerable nice guy when you are really just a regular good guy, then you will attract the wrong people into your life. If you want people to like you for you, then you need to be yourself at ALL times.
4. Get contact details from people you connect with: Add people to Facebook and get phone numbers in an easy-going way.
Don't give the impression that you will be calling and messaging them everyday, just say, "Hey, let's add each other to Facebook" or "Give me your number. I'll invite you out when I'm having a party with some friends."
5. Invite these people to parties or functions: By doing this, you will be ADDING VALUE to other people's lives. When you can be the guy who adds value to other people's life, they will practically LINE UP to be your friend.
However, you have to keep things in balance; if you give too much, you will attract people who want to take advantage of you and if you give too little, many people will assume that you're not interested in their friendship.
There are MANY more secrets to making friends that I could tell you right, but I'll leave it there.
If you're reading this now and would like to make more friends, date and have sex with more women, get a girlfriend and increase the amount of fun & adventure in your life, then go ahead go ahead and listen to 21 Great Ways to Get a Girlfriend.
When you use the techniques from 21 Ways, you will get more phone numbers and go on more dates with women that you're attracted to…in addition to making more friends.
Want to Know the SECRET to Success With Women?
Watch this hidden video where Dan exposes his BIGGEST secret to success with women, which allows you to easily get laid or get a girlfriend.
This video is only available here and you can watch it for free right now.
Yes, I want free tips via email from Dan Bacon. I can unsubscribe at anytime with a click.
Privacy policy
.